Open Access

Subscription Access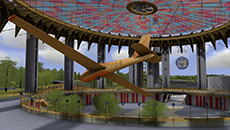 A Retrospective Perspective of the Digital Recreation of Mid-Century Subjects
Abstract
This article reflects on lessons learned and suggestions for future projects focused on using the tools of virtual heritage for the representation of the recent past. The earliest project that involved this combination of virtual heritage and "living history" was Shadows of Canaveral, a project based on oral history research with those involved in the Space Industry in Florida during the creation of a launch complex. More recently, the ChronoLeap project takes participants into the past to relive the 1964/1965 New York World's Fair, and the ChronoPoints project attempts to recreate life inside mid-century structures including the Glass Bank in Cocoa Beach, Florida. The challenges and opportunities involved in this type of work result from the fact that those who are still alive can both contribute to the development of such projects and "talk back" regarding the representation of their history, lives, and culture. To that end, the article raises interesting questions about community participation, collaborat on, and negotiation in contexts in which those represented can answer back and offer critiques.
Keywords
Virtual heritage; heritage education; virtual environments; community participation; U.S. popular culture
Full Text:
PDF

References
BAILENSON, Jeremy N. - YEE, Nick - BLASCOVICH, Jim - et al.
The Use of Immersive Virtual Reality in the Learning
Sciences: Digital Transformations of Teachers,
Students, and Social Context. Journal of the Learning
Sciences 17(1): 102-141.
BARAB, Sasha A. - GRASALFI, Melissa - INGRAM-GOBLE,
Adam
Transformational Play: Using Games to Position
Person, Content, and Context.
Educational Researcher 39(7): 525-536.
BARAB, Sasha - THOMAS, Michael - DODGE, Tyler - CERTEAX,
Robert - TUZUN, Hakan
Making Learning Fun: Quest Atlantis, a Game without
Guns. ETR&D Educational Technology Research and
Development 53(1): 86-107.
BARR, Rachel - BRITO, Natalie
Learning from Television during Early Childhood.
In Encyclopedia of the Sciences of Learning.
Norbert M. Seel (ed). Boston, MA:
Springer US. Pp. 1869-1872.
BERS, Marina Umaschi
Identity Construction Environments: Developing
Personal and Moral Values Through the Design of a
Virtual City. Journal of the Learning Sciences 10(4):
-415
DALGARNO, Barney - LEE, Mark J. W.
What Are the Learning Affordances of 3-D Virtual
Environments? British Journal of Educational
Technology 41(1): 10-32.
DEDE, Christopher
Immersive Interfaces for Engagement and Learning.
Science 323(5910): 66-69
DE FREITAS, Sara - NEUMANN, Tim
The Use of 'Exploratory Learning' for Supporting
Immersive Learning in Virtual Environments.
Computers & Education 52(2): 343-352.
DORR, Aimee - KOVARIC, Peter - DOUBLEDAY, Catherine
Parent-Child Coviewing of Television. Journal of
Broadcasting & Electronic Media 33(1): 35-51.
FARRELL, Stephen
Using Lasers to Preserve Antiquities Threatened by
ISIS - The New York Times. News. New York Times.
Accessed online, February 2, 2-16:
www.nytimes.com/2015/12/28/arts/design/using-laser-scanners-
to-preserve-antiquities-in-isiss-cross-hairs.html?_r=2.
KETELHUT, Diane Jass - NELSON, Brian C. - CLARKE, Jody
- DEDE, Chris
A Multi-User Virtual Environment for Building and
Assessing Higher Order Inquiry Skills in Science.
British Journal of Educational Technology 41(1): 56-68.
KITALONG, Karla
Annual Report of Project Evaluator: June 1, 2011 –
May 31, 2012. Interconnections Revisiting the Future.
Technical Report. Date Submitted: (June 14, 2012).
KUZNICK, Peter
Losing the World of Tomorrow: The Battle over the
Presentation of Science at the 1939 New York World's
Fair. American Quarterly: 341-373.
LAVE, Jean - WENGER, Etienne
Situated Learning: Legitimate Peripheral Participation.
Cambridge, UK: Cambridge University Press.
LINDGREN, Robb
Generating a Learning Stance through Perspective-
Taking in a Virtual Environment. Computers in
Human Behavior 28(4): 1130-1139.
MOORTHY, Savitha - PENUEL, Bill - VANDENBORGHT, Mieke
N.d. Joint Media Engagement and Learning. Accessed online, January 13, 2015: sriinternational.org/sites/default/files/publications/imports/ SRI_JME_ Statement_103110.pdf.
NEWMAN, J.
Ports and Patches: Digital Games as Unstable
Objects. Convergence: The International Journal of
Research into New Media Technologies 18(2):
-142. Accessed online, June 16, 2016:
con.sagepub.com/cgi/doi/10.1177/1354856511433688.
NEW YORK STATE PAVILION - Ideas Competition | National
Trust for Historic Preservation
N.d. National Trust for Historic Preservation.
savingplaces.org/nysp-ideas, accessed February 2, 2016.
REISER, Robert A. - TESSMER, Martin A. - PHELPS, Pamela C.
Adult-Child Interaction in Children's Learning from
"Sesame Street." Educational Communication and
Technology 32(4). JSTOR: 217–223.
Accessed online, December 10, 2014:
www.jstor.org/stable/30218146.
ROSS, Joel - TOMLINSON, Bill
How Games Can Redirect Humanity's Cognitive Surplus for Social Good. Computers in Entertainment. Computers in Entertainment CIE 8(4): 1-4.
ROUSSOU, Maria - DRETTAKIS, George
Photorealism and Non-Photorealism in Virtual
Heritage Representation. In First Eurographics
Workshop on Graphics and Cultural Heritage
(2003). Accessed online, February 2, 2016:
hal.inria.fr/inria-00606745/.
RYDELL, Robert W. - FINDLING, John E. - PELLE, Kimberly
D.2013 Fair America: World's Fairs in the United States.
Washington, DC: Smithsonian Institution Press.
SALOMON, Gavriel
Effects of Encouraging Israeli Mothers to Co-Observe
"Sesame Street" with Their Five-Year-Olds.
Child Development: 1146–1151. Accessed online,
January 13, 2015: www.jstor.org/stable/1128378.
SAMUEL, Lawrence R.
The End of the Innocence: the 1964-1965 New York World's Fair. Syracuse, NY: Syracuse University Press.
SCHALLER, David T - GOLDMAN, Kate Haley - SPICKELMIER,
Grant - ALLISON-BUNNELL, Steven - KOEPFLER, Jessica
Learning in the Wild: What Wolfquest Taught
Developers and Game Players. Museums and the Web
: Proceedings. Toronto: Archives & Museum
Informatics. Accessed online: www.archimuse.com/
mw2009/papers/schaller/schaller.html
SORATHIA, Keyur - SERVIDIO, Rocco
Learning and Experience: Teaching Tangible
Interaction & Edutainment. Procedia - Social and
Behavioral Sciences 64: 265-274.
SQUIRE, Kurt
From Content to Context: Videogames as Designed Experience. Educational Researcher 35(8): 19-29.
TAKEUCHI, Lori - STEVENS, Reed - FENWICK-NADITCH,
Ashley - et al.
The New Coviewing. Accessed online, January 13, 2015: www. joanganzcooneycenter.org/wp-content/up loads/2014/03/JGC_CoViewing_iPadPrint.pdf
VYGOTSKY, Lev Semenovich
Mind in Society: The Development of Higher Psychological Processes. Cambridge: Harvard University Press.
WALTERS, Lori - HUGHES, Darin - HUGHES, Charles
Interconnections: Revisiting the Future. Games and Culture 6(6): 538-559.
WALTERS, Lori
Scanning the Space-Age. LiDAR News Magazine
(2): 22-27.
WALTERS, Lori - HUGHES, Charles - SMITH, Eileen
Shadows of Canaveral: The Application of VR to a
Post-World War II Subject. In Computer Applications to Archaeology 2009. Williamsburg, VA, USA. Accessed online, January
, 2016: archive.caaconference.org/2009/articles/Walters_ Contribution313_c%20(2).pdf.
DOI:
http://dx.doi.org/10.12835/ve2016.2-0066
Refbacks
There are currently no refbacks.
ISSN Print 2499-9288
ISSN Online 2281-1605
Publisher Edizioni Museo Pasqualino
Patronage University of Basilicata, Italy
Web Salvo Leo
Periodico registrato presso il Tribunale di Palermo con numero di registrazione 1/2023