Open Access

Subscription Access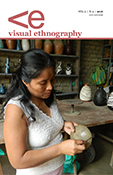 Exploring Digital Ethnography through Embodied Perspective, Role-Playing and Community Participation and Design. Introduction
Abstract
This special issue of Visual Ethnography explores the idea of digital ethnography in terms of community participation and design and perspective and role-playing in digital media. This introduction briefly outlines the place of perspective and roleplaying in expressing cultural heritage and cultural experience, and provides an overview of insights and techniques from the fields of participatory research and design. An introduction to the articles in the special issue follows, focusing on the diverse ways in which they offer practical and reflective perspectives on community participation, collaboration, and perspective in projects involving living cultural heritage, as well as the negotiation of space between researcher, subject matter, and the medium(s) through which lived experience is conveyed.
Keywords
digital ethnography; digital heritage; digital storytelling; visual ethnography; participatory approaches
Full Text:
PDF

References
BELL, David - KENNEDY, Barbara
The Cybercultures Reader. London: Routledge, 2nd edition.
BENTKOWSKA-KAFEL, Anna - DENARD, Hugh - BAKER Drew (eds)
Paradata and Transparency in Virtual Heritage Surrey: Ashgate Publishing.
BOELLSTORFF, Tom
Coming of Age in Second Life. Princeton University Press, Princeton, NJ.
CAMERON, Fiona - KENENDINE, Sarah (eds)
Theorizing Digital Cultural Heritage: A Critical Discourse. Cambridge, MA: The MIT Press.
CASEY, Edward
How to Get from Space in a Fairly Short Stretch of Time: Phenomenological Prolegomena. In Senses of Place. Stephen Feld and Keith Basso (eds) Santa Fe: School of American Research Press. Pp. 13-52.
CASTLEDEN, Heather - GARVIN, Theresa, HUU-AY-AHT
FIRST NATION
Modifying Photovoice for Community-Based Participatory Indigenous Research. Social Science & Medicine 66: 1393-1405.
CHAMPION, Erik
Critical Gaming. Ashgate Pub Co.
Playing with the Past. New York: Springer.
COHEN, Daniel J. – ROSENZWEIG, Roy
Digital History: A Guide to Gathering, Preserving, and Presenting the Past on the Web. Philadelphia: University of Pennsylvania Press.
COOVER, Roderick
Cultures in Webs (CD-ROM). Watertown, MA: Eastgate Systems.
FLYNN, Bernadette
The Morphology of Space in Virtual Heritage. In Theorizing Digital Cultural Heritage: A Critical Discourse. Cambridge, MA: MIT Press. Fiona Cameron and Sarah Kenderdine (eds). Pp. 349-368.
GOFFMAN, Erving
The Presentation of Self in Everyday Life. South Shore, MA: Anchor.
GUBRIUM, Aline - HARPER, Krista
Participatory Visual and Digital Methods. Walnut Creek, CA: Left Coast Press.
HUGHES, John
Therapy is Fantasy: Roleplaying, Healing and the Construction of Symbolic Order. Paper presented in Anthropology IV Honours, Medical Anthropology Seminar, Dr. Margo Lyon, Dept. of Prehistory &
Anthropology, Australian National University. Accessed online February 15, 2016: www.rpgstudies.net/hughes/therapy_ is_fantasy.html
GIACCARDI, Elissa - PALEN, Leysia
The Social Production of Heritage through
Cross-Media Interaction: Making Place for Place-Making. International Journal of Heritage Studies, 14(3): 281-297.
KALAY, Yehuda - KVAN, Thomas - AFFLECK, Janice (eds.)
New Heritage: New Media and Cultural Heritage. Oxford: Routledge
KIRBY, S. - MCKENNA, K.
Experience, Research. Social Change: Methods from the Margins, 61.
KNOWLES, Anne Kelly - HILLIER, Amy
Placing History: How Maps, Spatial Data, and GIS Are Changing Historical Scholarship. Redlands, CA: ESRI.
LAMBERT, Joe
Digital Storytelling: Capturing Lives, Creating Communities. New York: Routledge.
MARION, Jonathan S. - LYNN OFFEN, Julia
Translating Multsensory Experience: An Introduction. Anthropology News 50(4): 13-14.
PARRY, Ross (ed)
Museums in a Digital Age. Oxford: Taylor & Francis.
PARRY, Ross
Recoding the Museum: Digital Heritage and the Technologies of Change. Oxford: Routledge.
PINK, Sarah
Mobilising Visual Ethnography: Making Routes, Making Place and Making Images. Forum: Qualitative Social Research 9(3): 1-17.
RODE, Jennifer A.
Reflexivity in Digital Anthropology. In Proceedings of the SIGCHI Conference on Human Factors in Computing Systems. ACM. Pp. 123-132.
RODMAN, Margaret
Empowering place: Multivocality and Multilocality. In The Anthropology of Space and Place: Locating Culture. Setha Low and Denise Lawrence-Zuniga (eds). Oxford: Blackwell. Pp. 204-223.
SCHULER, Douglas - NAMIOKA, Aki
Participatory Design: Principles and Practices Hillsdale: Lawrence Erlbaum Associates.
TALLON, Loic - WALKER, Kevin (eds)
Digital Technologies and the Museum Experience: Handheld Guides and Other Media.
TURNER, Victor
The Anthropology of Perfomance. In The Anthropology of Performance. Victor Turner (ed). New York: PAJ Publications.
VISWNATHA, Meera - AMMERMAN, Alice - ENG, Eugenia, GARLEHNER, Gerald - LOHR, Kathleen - GRIFFITH, Derek RHODES, Scott, et al.
Community-based Participatory Research: Assessing the Evidence: Summary. Rockville, MD: Agency for Healthcare Research and Quality. Pp. 1-18.
WANG, Caroline - BURRIS, Mary Ann
Empowerment through Photo Novella: Portraits of Participation. Health Education Quarterly, 21(2): 171-186.
DOI:
http://dx.doi.org/10.12835/ve2016.2-0064
Refbacks
There are currently no refbacks.
ISSN Print 2499-9288
ISSN Online 2281-1605
Publisher Altrimedia Edizioni
Patronage University of Basilicata, Italy
Web Leonardo Di Benedetto
Periodico registrato presso il Tribunale di Matera, numero di registrazione 2/2014