Open Access

Subscription Access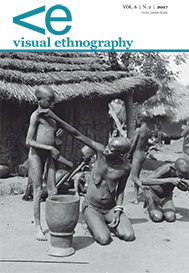 Collaborative Art Practices and Their Dynamics. Introduction
Abstract
In this introduction, the author presents the diverse theoretical, methodological and conceptual contributions (five articles, two reports, three photo-essays and two videos) contained in the volume. The contributions treat key topics in the debates on collaborative art practices and their dynamics, presenting significant collective activities and case studies in the art world, ranging from public and socially engaged art to the movements of artists choosing to deepen their relationships to the communities they effect.
Keywords
Art; politics; participation; place-specificity; collaboration
Full Text:
PDF

References
ASHWORTG, Gregory John & GRAHAM, Brian (eds)
Senses of Place: Senses of Time. Aldershot: Ashgate.
BASSO, Keith H. & FELD, Steven (eds) 1996 Senses of Place. Santa Fe: School of American Research Press.
BISHOP, Claire
Artificial Hells. Participatory Art and the Politics of Spectatorship. London and New York: Verso.
BOURRIAUD, Nicolas
L'esthétique relationnelle. Les Presses du Réel: Dijon.
CONVERY, Ian et alii (eds)
Making Sense of Place. Multidisciplinary Perspectives. Woodbridge and Rochester: The Boydell Press.
CREHAN, Kate
Community Art. An Anthropological Perspective. Oxford and New York: Berg.
DE CERTEAU, Michel
L'invenzione del quotidiano, Vol. I: Arti del fare. Roma: Manifestolibri.
DETHERIDGE, Anna
Scultori della speranza. L'arte nel contesto della globalizzazione. Torino: Einaudi.
GARCÍA CANCLINI, Néstor
Art beyond Itself: Anthropology for a Society without a Story Line. Durham, N.C.: Duke University Press.
GELL, Alfred
Art and Agency. An Anthropological Theory. Oxford and New York: Clarendon Press.
GROYS, Boris
Going Public. Berlin: Sternberg.
HALL Stuart
Il soggetto e la differenza. Per un'archeologia degli studi culturali e postcoloniali. Roma: Meltemi.
KESTER, Grant H.
The One and the Many. Contemporary Collaborative Art in a Global Context. Durham and London: Duke University Press.
KWON, Miwon
One Place after Another. Site-specific Art and Locational Identity. Cambridge and London: The MIT Press.
POZZI, Gianni
Figure del dono. Dispendio, reciprocità e impegno nella pratica artistica contemporanea. Pisa: Pisa University Press.
SANSI, Roger
Art, Anthropology and the Gift. London: Bloomsbury.
SCARDI, Gabi (ed)
Paesaggio con figura. Arte, sfera pubblica e trasformazione sociale. Torino: Umberto Allemandi & C.
SCHNEIDER, Arnd & WRIGHT, Christopher (eds)
Contemporary Art and Anthropology. Oxford and New York: Berg Publishers.
Between Art and Anthropology: Contemporary Ethnographic Practice. Oxford and New York: Berg Publishers.
Anthropology and Art Practice. London: Blooomsbury.
SUBRIZI, Carla
Azioni che cambiano il mondo. Donne, arte e politiche dello sguardo.
Milano: postmedia books.
THOMPSON, Nato (ed)
Living as Form: Socially Engaged Art from 1991-2011. Cambridge and London: The MIT Press.
DOI:
http://dx.doi.org/10.12835/ve2017.2-0084
Refbacks
There are currently no refbacks.
ISSN Print 2499-9288
ISSN Online 2281-1605
Publisher Altrimedia Edizioni
Patronage University of Basilicata, Italy
Web Leonardo Di Benedetto
Periodico registrato presso il Tribunale di Matera, numero di registrazione 2/2014