Open Access

Subscription Access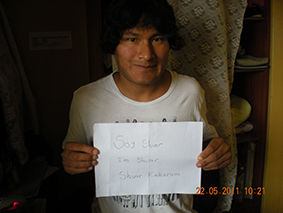 Not Forgetting Who I am, and Where I am going: Indigenous Amazonians Negotiate Identity through Participatory Photography
Abstract
Using participatory photography, we explore ways in which indigenous, Amazonian Peruvians define and negotiate their multiple identities (as native people, Peruvians, and global citizens) with a focus on those who leave their communities to seek education in the city. We show how they maintain a foot in each world without forgetting where they are, who they are, or how to navigate obstacles to reach their goals. At times they adopted a national message of Peruvian identity, but always held firm to their identity as
indigenous people who functioned as brokers between their native communities and the wider world.
Keywords
Participatory Photography; Peru; Amazonian Peruvians; Peruvian identity; Indigenous people
Full Text:
PDF

References
BROWN, Michael
Tsewa's Gift: Magic and Meaning in an Amazonian Society. Washington: Smithsonian Institution Press.
CASTLEDEN, Heather - GARVIN, Theresa and HUUAY-AHT First Nation
Modifying Photovoice for Community-based Participatory Indigenous Research. Social Science & Medicine 66(6):1393-1405.
CLARK-IBANEZ, Marisol
Framing the Social World With Photo-Elicitation Interviews. American Behavioral Scientist 47(12):1507-1527.
CLIFFORD, James
Returns: Becoming Indigenous in the Twenty-First Century. Cambridge: Harvard Press.
COLLIER, John
Visual Anthropology: Photography as a Research Method. New York: Holt, Rinehart and
Winston.
COMERCIO, El
a Apra madrugo al humalismo y ley forestal paso a la PCM [Apra won over humalismo and forestal law went to the PCM-Presidency of the Ministers Council]. El Comercio, June 5: A6.
b Representantes del Estado y nativos hablaran mientras el paro continua [Representatives of the State and the natives will talk while the
strike continues]. El Comercio, May 27: A2.
c Violencia en la selva: Muerte llego con flechas y balas [Violence in the Jungle: Death arrived with arrows and bullets]. El Comercio, June 6: A2.
Una imagen que cuenta la verdad [An image that tells the truth]. El Comercio, January 7:A10.
CONKLIN, Beth A. - GRAHAM, Laura R.
The Shifting Middle Ground: Amazonian Indians and Eco-Politics. American Anthropologist 97(4):695-710.
CULTURAL AWAJUN [Awajun Culture]
N.d. Cultura Awajun. culturaawajun.blogspot.pe/, accessed November 17, 2017.
DE LA CADENA, Marisol
Indigenous Mestizos: The Politics of Race and Culture in Cuzco, Peru, 1919-1991. Durham: Duke University Press.
DOBKIN DE RIOS, Marlene
A Note on the Use of Ayahuasca among Urban Mestizo Populations in the Peruvian Amazon. American Anthropologist 72(6):1419-1422.
FREIRE, Paulo
Pedagogy of the Oppressed. New York: Continuum.
GARCIA, Maria Elena
Making Indigenous Citizens: Identity, Development, and Multicultural Activism in Peru. Stanford: Stanford University Press.
GOTSCHI, E. - DELVE,R. - FREYER, B.
Participatory Photography as a Qualitative Approach to Obtain Insights into Farmer Groups. Field Methods 21(3):290-308.
GRAMSCI, Antonio - QUINTIN, Hoare - GEOFFREY,
Nowell-Smith
Selections from the Prison Notebooks of Antonio Gramsci. London: Lawrence & Wishart.
GRIMSHAW, Anna
The Ethnographer's Eye: Ways of Seeing in Anthropology. Cambridge: Cambridge University Press.
GUBRIUM, Aline - HARPER, Krista
Participatory Visual and Digital Methods. Walnut Creek, CA: Left Coast Press.
HARNER, Michael J.
The Jivaro: People of the Sacred Waterfalls. Berkeley: University of California Press.
HARPER, Douglas
Talking about Pictures: A Case for Photo Elicitation. Visual Studies 17(1):13-26. 2012 Visual sociology. London: Routledge.
HOLGATE, Jane - JANROJ, Keles - KUMARAPPAN,Leena
Visualizing Community: An Experiment in Participatory Photography among Kurdish
Diasporic Workers in London. The Sociological Review 60(2):312-332.
INSTITUTO NACIONAL DE ESTADÍSTICA E INFORMÁTICA, Dirección Nacional de Censos y Encuestas
Censos Nacionales 2007, XI de Población y VI de Vivienda - Resúmen Ejecutivo: Resultados Definitivos de las Comunidades Indígenas [2007 National Census, XI of Population, and VI of Household - Executive Summary: Final Results for Indigenous Communities]. Lima: INEI - Instituto Nacional de Estadística e Informática.
KOTTAK, Conrad Phillip, - KOZAITIS, Kathryn A.
On Being Different: Diversity and Multiculturalism in the North American Mainstream. Fourth Edition. Boston: McGraw-Hill.
LARSON, Mildred L. - DAVIS, Patricia M. eds.
Bilingual Education: An Experience in Peruvian Amazonia. Washington, D.C.: Center for Applied Linguistics - SIL.
LORENZ, Laura S., and Bettina Kolb
Involving the Public through Participatory Visual Research Methods. Health Expectations
(3):262-274.
LUNA, Nelly
La red que los rescató del olvido [The net that rescued them from oblivion]. El Comercio, May 27:A12.
MINISTERIO, DE EDUCACIÓN DEL PERÚ
Diseño Curricular Nacional de Educación Básica Regular [National Curriculum
Design for Basic Regular Education]. Electronic document, www.minedu.gob.pe, accessed June 28, 2010.
MORELLI, Camilla
The River Echoes with Laughter: A Child-Centred Analysis of Social Change in Amazonia. Journal of the Royal Anthropological Institute 23(1):137-154.
OLIFFE, J. L. - BOTTORFF, J. L.
Further than the Eye Can See? Photo Elicitation and Research with Men. Qualitative Health Research 17(6):850-8.
PADILHA, José, et al. dirs.
Secrets of the Tribe. 90 min. min. Documentary Educational Resources. Watertown, MA.
Pahl, Kate, and Jennifer Rowsell
Literacy and Education: Understanding the New Literacy Studies in the Classroom. London: Paul Chapman Publishing.
PHOTOSCAPE
N.d. Home Page. Electronic document, www.photoscape.org/ps/main/index.php,
accessed November 17, 2017.
PINK, Sarah
Interdisciplinary Agendas in Visual Research: Re-situating Visual Anthropology. Visual
Studies 18(2):179-192.
POZZI-ESCOT, Ines
El Multilinguismo en el Peru. Cuzco-Peru: Centro de Estudios Regionales Andinos "Bartolome de las Casas".
REGAN, Jaime
Hacia la Tierra sin Mal: La Religión del Pueblo en la Amazonía [Toward the Land with No Evil: Religion of the People in Amazonia]. Iquitos, Perú: CETA.
RENIQUE, Gerardo
Against the Law of the Jungle: Peru's Amazonian Uprising. In NACLA Report on the Americas. Pp. 5-8, Vol. 42(1). New York: North American Congress on Latin America.
RUBENSTEIN, Steven L.
Shuar Migrants and Shrunken Heads Face to Face in a New York Museum. Anthropology today 20(3):15-18.
SUXO YAPUCHURA, Moises
La Lucha por la Sobrevivencia: El Aimara en Lima [The Struggle for Survival: The Aimara in Lima]. La Paz: UMSS-PROEIB Andes-Plural Editores.
La Voz de una Nacion: Los Aymaras de Lima Metropolitana. Caso Unicachi [The Voice of a Nation: The Aymaras of Metropolitan Lima. The Unicachi Case]. Lima: Editorial San Marcos.
THE REAL AVATAR
The Nature of Things with David Suzuki. Season 50, Episode 14. 45:19 min. Canadian Broadcastring Corporation, March 3.
TROUILLOT, Michel-Rolph
Global Transformations: Anthropology and the Modern World. New York: Palgrave Macmillan.
UNDERBERG, Natalie M. - ZORN, Elayne
Digital Ethnography: Anthropology, Narrative, and New Media. Austin: University of Texas Press.
VILLAMAR, Roger M.
Napuruka: Modernization and Education in an Aguaruna Community of the Peruvian Amazon. Master's Thesis, Department of Anthropology, Montclair State University, Anthropology.
WANG, Caroline
Photovoice: A Participatory Action Research Strategy Applied to Women's Health. Journal of Women's Health 8(2):185.
WANG, Caroline , et al.
Flint Photovoice: Community Building Among
Youths, Adults, and Policymakers. American Journal of Public Health 94(6):911-913.
WANG, Caroline - BURRIS, Mary Ann - PING, Xiang Yue
Chinese Village Women as Visual Anthropologists: A Participatory Approach to
Reaching Policymakers. Social Science & Medicine 42(10):1391-1400.
WILDER, Laena
Documentary Photography in the Field. In Viewpoints: Visual Anthropologists at Work. M.
Strong and L. Wilder, eds. Pp. 33-52. Austin: The University of Texas Press.
WOODWARD, Kathryn
Identity and difference. London: Sage.
DOI:
http://dx.doi.org/10.12835/ve2017.2-0091
Refbacks
There are currently no refbacks.
ISSN Print 2499-9288
ISSN Online 2281-1605
Publisher Edizioni Museo Pasqualino
Patronage University of Basilicata, Italy
Web Salvo Leo
Periodico registrato presso il Tribunale di Palermo con numero di registrazione 1/2023