Open Access

Subscription Access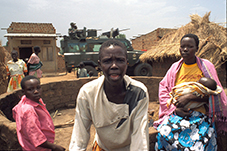 Outside the Frame of Violence: Unsettling Visual Projects in and after War in Northern Uganda
Abstract
During my 14 years of work in Northern Uganda, I learned to progressively look outside the frame of violence to understand and re-present how individuals and communities live during and after forced displacement and
forced intra-community violence. Through the examination of three visual projects I created in those years, this article explores how the visual has both mirrored and compelled my theoretical understandings. Providing a valuable feedback loop to my progressive unsettling, the visual has hitherto been an integral, yet underexamined and under-theorized, part of my research practice.
Keywords
Photography; Northern Uganda; Responsive Methodologies; Visual Anthropology; Indigenous Knowledge; Violence; Refusal; Collaboration; Afrocentrism.
Full Text:
PDF

References
APUULI, Kasaija Phillip
Peace Over Justice: The Acholi Religious Leaders Peace Initiative (ARLPI) vs. The International Criminal Court (ICC) in Northern Uganda. Studies in Ethnicity and Nationalism 11:116–129
ARMSTRONG, Kimberley
Justice Without Peace? International Justice and Conflict Resolution in Northern Uganda. Development and Change 45(3):589–607.
ASAD, Talal
Anthropology and the Colonial Encounter. Atlantic Highlands, N.J.: Ithaca Press.
ASANTE, Molefi Kete
Afrocentricity: The Theory of Social Change. Chicago: African American Images.
BAINES, Erin K.
The Haunting of Alice: Local Approaches to Justice and Reconciliation in Northern Uganda. International Journal of Transitional Justice 1(1):91–114.
BESSIRE, Lucas
Glimpses of Emergence in the Ayoreo Video Project. Visual Anthropology Review 33(2):119-129.
BRANCH, Adam
Displacing Human Rights: War and Intervention in Northern Uganda. New York: Oxford University Press.
BUTLER, Judith
Frames of War: When is Life Grievable? London: Verso.
CAMPT, Tina M.
Listening to Images. Durham: Duke University Press.
CHILISA, Bagele
Indigenous Research Methodologies. California: Sage Publications Inc.
DOLAN, Chris
Social Torture: The Case of Northern Uganda, 1986-2006. New York: Berghahn.
EDWARDS, Elizabeth
Raw Histories: Photographs, Anthropology and Museums. Oxford: Berg.
FINNSTRÖM, Sverker
Living with Bad Surroundings: War and Existential Uncertainty in Acholiland, Northern Uganda. Durham And London: Duke University Press.
GRIMSHAW, Anna
The Ethnographer's Eye: Ways of Seeing in Anthropology. Cambridge: Cambride University Press.
HADDON, Alfred Cort
Evolution in Art: As Illustrated by the Life-histories of designs. London: Walter Scott.
HERZFELD, Michael
Hindsight/Postscript: Ethical and Epistemic Reflections on/of Anthropological Vision. In Made to Be Seen: Perspectives on the History of Visual Anthropology. Banks, Marcus and Jay Ruby (Eds). Chicago:
The University of Chicago Press.
KOMAKECH, Lyandro
Traditional Justice as a Form of Adjudication in Uganda. In Where Law Meets Reality: Forging African Transitional Justice, M.C. Okello, C. Dolan, U. Whande, N. Mncwabe, L. Onegi, and S. Oola (eds.). Pp. 64-79. Cape Town: Pambazuka Press.
KOVACH, Margaret
Indigenous Methodologies: Characteristics, Conversations and Contexts. Toronto: University of Toronto Press.
MACHEL, Graça
Impact of Armed Conflict on Children. UNICEF Report.
MAZAMA, Ama
The Afrocentric Paradigm: Contours and Definitions. Journal of Black Studies 31(4):387-405.
MKABELA, Queeneth
Using the Afrocentric Method in Researching Indigenous African Culture. The Qualitative Report 10(1):178-189.
OLOYA, Opiyo
Are the Acholi Mum for Fear of Rocking the Boat? Editorial. New Vision. February 19th.
PACK, Sam
"Uniquely Navajo?": The Navajo Film Project Reconsidered. Visual Ethnography 1(2):1-20.
REGAN, Paulette
Unsettling the Settler Within: Indian Residential Schools, Truth Telling, and Reconciliation in Canada. Vancouver: UBC Press.
SHANKAR, Arjun
Auteurship and Image-making: A (Gentle) Critique of the Photovoice Method. Visual Anthropology Review 32(2):157-166.
SHAW, Rosalind
Displacing Violence: Making Pentecostal Memory in Postwar Sierra Leone. Cultural Anthropology 22(1):66-93.
SMITH, Linda Tuhiwai
Decolonizing Methodologies: Research and Indigenous Peoples. New York: St.Martin's Press.
SOLOMON-GODEAU, A.
Photography At The Dock: Essays On Photographic History, Institutions and Practices. Minneapolis: University of Minneapolis Press.
SONTAG, Susan
Regarding the Pain of Others. New York: Farrar, Straus and Giroux.
LEVI-STRAUSS, David
A Sea of Griefs is Not a Proscenium: The Rwandan Projects of Alfredo Jaar. In Let There Be Light. Barcelona: ACTAR.
THEIDON, Kimberley
Intimate Enemies: Violence and Reconciliation in Peru. Philadelphia: University of Pennsylvania Press.
TUCK, Eve
Suspending Damage: A Letter to Communities. Harvard Educational Review: September 79(3): 409-428.
VAN WOLPUTTE, Steven
A Tale of Six Circles: A Travelogue? Visual Anthropology Review 33(2): 177-190.
WATTS, Vanessa
Indigenous Place-thought and Agency Amongst Humans and Non-humans (First Woman and Sky Woman go on a European world tour!). Decolonization: Indigeneity, Education & Society 2(1):20-34.
WILSON, Shawn
Research Is Ceremony: Indigenous Research Methods. Nova Scotia: Fernwood Publishing
Refbacks
There are currently no refbacks.
ISSN Print 2499-9288
ISSN Online 2281-1605
Publisher Altrimedia Edizioni
Patronage University of Basilicata, Italy
Web Leonardo Di Benedetto
Periodico registrato presso il Tribunale di Matera, numero di registrazione 2/2014