Open Access

Subscription Access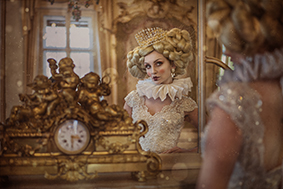 Staged Authenticity. How the 'Real' Is Created in Model Photography
Abstract
While obviously lavish styling was favored in the past, the so-called "authentic" or "natural" style has recently gained popularity in the model photography scene. After looking at the cultural situation that paved the way for this style the article explores the on first sight conflicting needs for "the real" and for perfection. In the following, (visual) strategies for conveying the "authentic", including the choice of ordinary locations, the emphasis on the moment, built-in film errors reminiscent of analogue times, but also the emphasis on the friendly-intimate relationship between model and photographer. The resulting images pretend to be natural but are not. Through the apparent abandonment of signifiers, which stand for elaborate, high-quality recordings, these images emphasize emotion and intuition and could be perceived as more auratic.
Keywords
people photography; staging; authenticity; reality; emotions; aura; model; fashion
Full Text:
PDF

References
BARTHES, Roland
Die helle Kammer. Bemerkungen zur Photographie. Frankfurt am Main: Suhrkamp.
BECKER, Thomas A.
Kreativität. Letzte Hoffnung der blockierten Gesellschaft? Konstanz: UVK Verlagsgesellschaft mbH.
BEYER, Andreas
Die Kunst des Klassizismus und der Romantik. Nördlingen: C.H. Beck.
BIEGER, Laura
Schöne Körper, hungriges Selbst. Über die moderne Wunschökonomie der Anerkennung. In Der schöne Körper. Mode und Kosmetik in Kunst und Gesellschaft. Annette Geiger. Köln: Böhlau Verlag. pp. 53-68.
BLUNK, Lars
Fotografische Wirklichkeiten. In Die Fotografische Wirklichkeit. Inszenierung. Fiktion. Narration. Lars Blunk. Bielefeld: Transcript. pp. 9–36.
CARUSO, Paolo
Gespräch mit Michel Foucault. In: Walter Setter: Michel Foucault: Von der Subversion des Wissens. München: Fischer. pp. 7-31.
COLEMAN, A.F.
Auras: There's an App for That. MIT Technology Review. pp. 72-78.
DANGENDORF, Sarah
Kleine Mädchen und High Heels. Über die visuelle Sexualisierung frühadoleszenter Mädchen. Bielefeld: Transcript.
GELDER, Ken
The Subcultures Reader. London and New York: Routledge.
GOTTSCHALK, Molly
A New Generation of Photographers Are Embracing Authenticity—and Finding It in Film. Artsy.net.
https://www.artsy.net/article/artsy-editorial-have-we-reached-peak-digital-photography.
HÄGELE, Ulrich
Scheinwelten. Über die Digitalisierung der Fotografie und ihre Bedeutung für die Kulturwissenschaft. In Digitale Fotografie. Kulturelle Praxen eines neuen Mediums. Visuelle Kultur. Studien und Materialien Band 4. Irene Ziehe – Ulrich Hägele. Münster: Waxmann. pp. 23-38.
LACKNER, Thomas
Computerspiel und Lebenswelt: KulturanthropologischePerspektiven. Bielefeld: Transcript.
JERRENTRUP, MAJA TABEA
Modeln als Therapie? Zum Potential inszenierter Menschenfotografie. Münster: Waxmann.
MIKOS, Lothar
Teilnehmende Beobachtung. In: Lothar Mikos und Claudia Wegner: Qualitative Medienforschung. Ein Handbuch. 2. Auflage. München: UVK Verlagsgesellschaft. pp. 362-368.
MITCHELL, William J.T.
Realismus im digitalen Bild. In Bilderfragen. Die Bildwissenschaften im Austausch. Hans Belting (ed.). München: Wilhelm Fink. pp. 237-256.
PIRELLI
Präsentation des Kalenders 2017 von Peter Lindbergh in Paris. www.pirellicalendar.com zeigt exklusiv Wissenswertes zur neusten Ausgabe von "The Cal" TM. http://www.pirelli.com/corporate/en/site/the_cal_2017/loggedArea_cal_press_release.htm
POCHAT, Götz
Zeitaspekte in der bildenden Kunst. In: Dietmar Goltschnigg: Phänomen Zeit. Dimensionen und Strukturen in Kultur und Wissenschaft. Tübingen: Stauffenburg Verlag. pp. 349-358.
RUELFS, Esther
Käufliche Emotionen. Inszenierte Authentizität und demonstrative Ausdruckslosigkeit in zeitgenössigen Modefotografien. In Fotografische Leidenschaften. Katharina Sykora, Ludger Derenthal und Esther Ruelfs (eds). Marburg: Jonas Verlag. pp. 213-219.
SEYWALD, Aline
Problemzone Schönheit. Die Rolle von Schönheit in der Welt der Jugendlichen. Newsletter für werteorientierte Jugendforschung. Ethikinstitut.
http://www.ethikinstitut.de/fileadmin/ethikinstitut/redaktionell/Texte_fuer_Unterseiten/Jugend_und_Werte_Newsletter/19-Problemzone_Schoenheit.pdf
SONTAG, Susan
On photography. New York: Rosetta Books.
DOI:
http://dx.doi.org/10.12835/ve2019.1-0127
Refbacks
There are currently no refbacks.
ISSN Print 2499-9288
ISSN Online 2281-1605
Publisher Edizioni Museo Pasqualino
Patronage University of Basilicata, Italy
Web Salvo Leo
Periodico registrato presso il Tribunale di Palermo con numero di registrazione 1/2023