Open Access

Subscription Access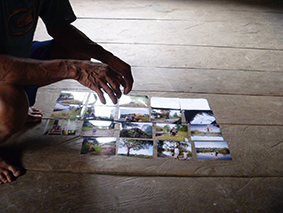 Defining Biodiversity: A Local Assessment of the Tahuayo River, Peru Using Self-Directed Photography
Abstract
Self-directed photography allows participants the opportunity to direct data collection and empowers them to visually communicate their perceptions. This method was employed in the rural Amazonian communities of
Buena Vista and El Chino on the Tahuayo River in Loreto, Peru, in an effort to interpret local connections to the environment. Thirty-three participants (representing a 47% sample of households) were given cameras and
two weeks, and were asked to photograph the people, places, or things most important to them. The Tahuayo River was chosen for this project because it borders the Área de Conservación Regional Comunal Tamshiyacu Tahuayo (ACRCTT), a reserve recognized for the advocacy and conservation work of resident communities. Participants sorted their photographs in order of relative importance and provided a narrative description of each image. The images identified as being the ten most important, a total of 320 photographs, were considered for analysis. Plants and trees represented 63% of these images, with 74 distinct species identified. This article demonstrates how self-directed photography can be used to access Traditional Ecological Knowledge (TEK) and facilitate the development of holistic resource management plans that advocate local stewardship.
Keywords
Self-directed Photography; Ethnography; Community Conservation; Biodiversity; Traditional Ecological Knowledge; Holistic Resource Management; Tahuayo River; Peru
Full Text:
PDF

References
AGRAWAL, Arun, & REDFORD, Kent
Conservation and displacement: an overview. Conservation and Society, 7 (1), 1-10. doi:10.4103/0972-4923.54790
BARTHEL, Stephan, CRUMLEy, Carole, & SVEDIN, Uno
Biocultural refugia: combating the erosion of diversity in landscapes of food production. Ecology and Society, 18 (4): 71. http://dx.doi.org/10.1016/j.gloenvcha.2013.05.001
BECKLEY, Thomas, STEDMAN, Richard, WALLACe, Sara, & AMBARD, Marke
Snapshots of what matters most: using resident-employed photography to articulate attachment to place. Society & Natural Resources: An International Journal, 20 (10), 913-929.
http://dx.doi.org/10.1080/08941920701537007
BEH, Adam, BRUYERE, Brett L. & LOLOSOLI, Sam
Legitimizing local perspectives in conservation through community-based research: a photovoice study in Samburu, Kenya. Society and Natural Resources, 26, 1390-1406. doi:10.1080/08941920.2013.085858
BERKES, Fikret.
Community-based conservation in a globalized world. (E. Ostrom, Ed.) PNAS, 104 (39), 15188-15193.
www.pnas.org/cgi/doi/10.1073/pnas.0702098104
BERKES, Fikret, COLDING, Johan & FOLKE, Carl
Rediscovery of traditional ecological knowledge as adaptive management. Ecological Applications, 10 (5), 1251-1262. http://www.jstor.org/stable/2641280
BODMER, Richard
Managing wildlife with local communities in the Peruvian Amazon: the case of the reserva comunal tamshiyacu-tahuayo. In D. Western, R. M. Wright, & S. C. Strum (Eds.), Natural Connections: Perspectives on
Community-based Conservation (pp. 113-134). Covelo, California: Island Press.
BOILLAT, Sebastien & BERKES, Fikret
Perception and interpretation of climate change among quechua farmers of bolivia: indigenous knowledge as a resource for adaptive capacity. Ecology and Society, 18 (4): 21.
http://dx.doi.org/10.5751/ES-05894-180421
BOISSIERE, Manuel, LOCATELLI, Bruno, SHEIL, Douglas, PADMANABA, Michael & SADJUDIN, Ermayanti
Local perceptions of climate variability and change in tropical forests of papua, indonesia. Ecology and Society, 18 (4): 13. http://dx.doi.org/10.5751/ES-05822-180413
BROCKINGTON, Dan & IGOE, Jim
Eviction for conservation: a global overview. Conservation and Society, 4 (3), 424-470.
CHAPIN, Mac
A challenge to conservationists. World Watch, 17 (6), 17-31.
CHICCHON, Avecita
Working with indigenous people to conserve nature: examples from latin america. Conservation and Society, 7 (1), 15-20.
COLCHESTER, Marcus
Self-determination or environmental determinism for indigenous people in tropical forest conservation. Conservation Biology. 14 (5), 1365-1367. http://www.jstor.org/stable/2641787
COOMES, Oliver T. & BARHAM, Bradford L.
Rain forest extraction and conservation in amazonia. The Geographical Journal, 163 (2), 180-188.
http://www.jstor.org/stable/3060181
FAITH, Daniel P.
Global biodiversity assessment: integrating global and local values and human dimensions. Global Environmental Change, 15, 5-8. doi:10.1016/j.gloenvcha.2004.12.003
GADGIL, Madhav, BERKES, Fikret & FOLKE, Carl
Indigenous knowledge for biodiversity conservation. Ambio, 22 (2-3), 151-156.
GOBIERNO REGIONAL DE LORETO
-2015 Plan maestro 2011-2015 : Área de Conservación Regional Comunal de Tamshiyacu-Tahuayo. Gobierno regional de Loreto.
GOMEZ-BAGGETHUN, Erik, CORBERA, Esteve & REYES-GARCIA, Victoria
Traditional ecological knowledge and global environmental change: research findings and policy implications. Ecology and Society, 18 (4): 72. http://dx.doi.org/10.5751/ES-06288-180472
GUHA, Ramachandra
The authoritarian biologist and the arrogance of anti-humanism: wildlife conservation in the third world. The Ecologist, 27 (1), 14-20.
GUHA, Ramachandra
Radical american environmentalism and wilderness preservation: a third world critique. Environmental Ethics, 11 (1), 71-83.
GUPTA, Akhil & FERGUSON, James
Beyond "culture": space, identity, and the politics of difference. Cultural Anthropology, 7 (1), 6-23.
HALME, K. J. & BODMER, Richard E.
Correspondence between scientific and traditional ecological knowledge: rain forest classification by nonindigenous riberenos in Peruvian Amazonia. Biodiversity Conservation, 16, 1785-1801. doi:10.1007/s10531-006-9071-4
HAMILTON, Andrew J.
Species diversity or biodiversity? Journal of Environmental Management, 75, 89-92.
doi:10.1016/j.jenvman.2004.11.012
HAYES, Tanya & OSTROM, Elinor
Conserving the world's forests: are protected areas the only way? Indiana Law Review, 38, 595-617.
THE INTERNATIONAL CONVENTION ON BIOLOGICAL DIVERSITY
Convention on Biological Diversity: Article 2: Use of Terms. Retrieved 2016 from https://www.cbd.int/convention/articles/
JINXIU, Wang, HONGMAO, Liu, HUABIN, Hu & LEI, Gao
Participatory approach for rapid assessment of plant diversity through folk classification system in a tropical rain forest: case study in Xishuangbanna, China. Conserv Biol, 18, 1139-1142.
MANZI, Maya & COOMES, Oliver T.
Managing amazonian palms for community use: a case of aguaje palm (mauritia flexuosa) in peru. Forest Ecology and Management, 257, 510-517. doi:10.1016/j.foreco.2008.09.038
MARKWELL, Kevin W.
Photo-documentation and analyses as research strategies in human geography. Austrailian Geographical Studies, 38 (1), 91-98.
MCSHANE, Thomas O., et al.
Hard choices: Making trade-offs between biodiversity conservation and human well-being. Biological Conservation. doi:10.1016/j.biocon.2010.04.038
MILLER, Thaddeus R., MINTEER, Ben A. & MALAN, Leon-C.
The new conservation debate: the view from practical ethics. Biological Conservation. doi:10.1016/j.biocon.2010.07.027
MOORE, Gemma, CROXFORD, Ben, ADAMS, Mags, REFAEE, Mohamed, COX, Trevor & SHARPLES, Steve
The photo-survey research method: capturing life in the city. Visual Studies, 23 (1), 50-62. doi:10.1080/14725860801908536
NEWING, Helen & BODMER, Richard E.
Collaborative wildlife management and adaptation to change: the Tamshiyacu Tahuayo Communal Reserve, Peru. Nomadic Peoples, 7 (1), 110-122.
OTEROS-ROZAS, Elisa, ONTILLERA-SANCHEZ, Richard, SANOSA, Pau, GOMEZ-BAGGETHUN, Erik, REYES GARCIA, Victoria & GONZALEZ, Jose A.
Traditional ecological knowledge among transhumant pastoralists in mediterranean spain. Ecology and Society , 18 (3): 33. http://dx.doi.org/10.5751/ES-05597-180333
PINEDO, Danny, SUMMERS, Percy M., SMITH, Richard C., SAAVEDRA, Johnny, ZUMAETA, Rafael & ALMEYADA, Angelica M.
Community-based natural resource management as a non-linear process: a case study in the Peruvian Amazon varzea. Eighth IASCP Conference (pp. 1-28). Bloomington, Indiana: May 30- June 4, 2000. Accessed January 7, 2016. http://www.academia.edu/469935/Community-
Based_Natural_Resource_Management_as_a_Non-
Linear_Process_A_Case_in_the_Peruvian_Amazon_Varzea.
PUERTAS, Pablo & BODMER, Richard E.
Conservation of a high diversity primate assemblage. Biodiversity and Conservation, 2, 586-593.
Community-based conservation and traditional ecological knowledge: implications for social-ecological resilience. Ecology and Society, 18 (4):12. http://dx.doi.org/10.5157/ES-05867-180412
SARKAR, Sahotra
Wilderness preservation and biodiversity conservation: keeping divergent goals distinct. BioScience, 49 (5), 405-412.
SARKAR, Sahotra
Norms and the conservaton of biodiversity. Resonance, 13 (7), 627-637.
SARKAR, Sahotra & MONTOYA, Mariana
Beyond parks and reserves: the ethics and politics of conservation with a case study from Peru. Biological Conservation. doi:10.1016/j.biocon.2010.03.008
TERBORGH, John
Requiem for nature. Washington: Island Press.
VERMEULEN, Sonja & KOZIELL, Izabella
Integrating global and local values: a review of biodiversity assessment. Retrieved 2016 from
http://pubs.iied.org/pdfs/9100IIE.
DOI:
http://dx.doi.org/10.12835/ve2019.1-0128
Refbacks
There are currently no refbacks.
ISSN Print 2499-9288
ISSN Online 2281-1605
Publisher Edizioni Museo Pasqualino
Patronage University of Basilicata, Italy
Web Salvo Leo
Periodico registrato presso il Tribunale di Palermo con numero di registrazione 1/2023