Open Access

Subscription Access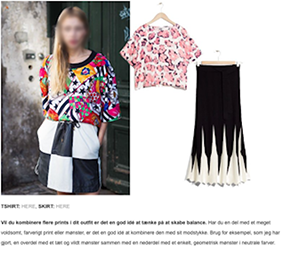 "Because I Need to Create My Own Universe". Bloggers on Instagram and the Creation of a Digital Photomimetic Self
Abstract
To grasp visually what a person represents is an increasingly important element for the social media generation1 (Senft and Baym 2015, Hall 2015, Hjorth and Hendry 2015). This is especially true for fashion bloggers and 'Influencers', who live – or try to live – off their blogs and/or Instagram accounts. Creating a specific visual universe on these platforms appears to be a common and crucial practice among these content producers. Based on a long-term anthropological fieldwork project among female fashion and lifestyle bloggers in Copenhagen, I look at bloggers online and offline in an attempt to make anthropological sense of what the
'posting of images' on Instagram is culturally and microsocially about. In this paper, I argue that this generation of bloggers constructs what I have termed a photomimetic self. They do this to create a recognizable digital
online self, crafting it to attract an audience, which, in turn – if large and rich enough – may attract lucrative collaborations with companies that want their brands marketed. Thus, the popularity of this visual and digital
identity is key for bloggers who wish to live off their postings. My central argument is that the photomimetic self, although portraying a 'now', projects a mimicked future; it is an ideal, phantasmic, a coat stand of dreams and wishes created to attract audiences in order to bring this future self into the life of the offline present self.
Keywords
Blogger; Instagram; photography; photomimetic self; visual representation; imagination; digital identity
Full Text:
PDF

References
ABIDIN, Crystal
"Aren't These Just Young, Rich Women Doing Vain Things Online?": Influencer Selfies as Subversive Frivolity. Social Media+ Society. 1-17.
ANTUNOVIC, Dunja – HARDIN, Mmarie
Women bloggers: Identity and the conceptualization of sports. New Media & Society. 15(8) 1374– 1392
BENJAMIN, Walter
A short History of Photography. Accessed online, March, 5- 2017:
https://monoskop.org/images/7/79/Benjamin_Walter_1931_1972_A_Short_History_of_Photography.pdf
BENJAMIN, Walter
On the Mimetic faculty. Selected Writings 1927-1934. Trans. Edmund Jephcott. 720-2.
BENJAMIN, Walter
Doctrine of the Similar. Accessed online, March, 5- 2017:
http://www.sommerakademie.zpk.org/fileadmin/user_upload/2014/PDFs/Reader/2008_Benjamin_W_-_Doctrine_of.pdf
BORGMANN, Albert
Is the Internet the Solution to the Problem of Community?. Community in the digital age - Philosophy and practice. Andrew, Feenberg and Darin, Barney (eds.) Rowman and Littlefield publishers. Pp. 53-68
BORN, Wolfgang
Photographic Weltanschauung. In. Photography in the Modern Era: European Documents and Critical Writings, 1913 – 1940. Phillips, C. (ed.). The Metropolitan Museum of Art, New York, 1989. pp. 155 - 159.
BOYED, Danah
Friends, Friendsters, and MySpace Top 8: Writing Community into Being on Social Network Sites. First Monday, 11(12). Accessed online, November, 10- 2017:
http://firstmonday.org/htbin/cgiwrap/bin/ojs/index.php/fm/article/view/1418/1336
BUTLER, Judith
Gender Trouble. Feminism and the Subversion of identity.
CATHCART, Robert - GUMPERT, Gary
I am a camera: The mediated self. Communication Quarterly. Vol 34. 1986- Issue 2.
CARAH, Nicholas – SHAUL, Michelle
Brands and Instagram: Point, tap, swipe, glace. Mobile Media & Communication. Vol. 4(1) 69-84
DUFFY, Brooke Erin – PRUCHNIEWSKA, Urszula
Gender and self-enterprise in the social media age: a digital double bind. Information, Communication & Society, 20:6, 843-859.
GEERTZ, Clifford
The Religion of Java. London: The Free Press of Glencoe. Gollier Macmillan Limited.
GIDDENS, Anthony
Modernity and Self-Identity. Self and Society in the Late Modern Age, Polity Press.
GOFFMANN, Erving
The presentation of self in everyday life. Accessed online, July, 11- 2017:
https://monoskop.org/images/1/19/Goffman_Erving_The_Presentation_of_Self_in_Everyday_Life.pdf
HALL, Kimberly
Selfies and Self-Writing; Cue Card confessions as Social Media Technologies of the Self. Television & New Media, vol. 17, 3: pp. 228-242.
HALVORSEN, Katarina – HOFFMANN, Jonas – COSTE-MANIERE, Ivan – STANKEVICIUTE, Rasa
Bridging Fashion and Marketing. Journal of Global Fashion Marketing. 4:3, pp. 211-224
HEYWOOD, Ian – SANDYWELL, Barry
The Handbook of Visual Culture. Berg Publishers
HERRING, Susan C. – KOUPER, Inna – SCHEIDT, Lois Ann – WRIGHT, Elijah
Women and children last: The discursive construction of weblogs. In. Into the blogosphere: Rhetoric, community, and culture of weblogs. Laura Gurak, Smiljana Antonijevic, Laurie Johnson, Clancy Ratliff, Jessica Reyman (Eds.) Accessed online, February, 10 - 2018:
http://blog.lib.umn.edu/blogosphere/women_and_children.html
HJORTH, Larissa – HENDRY, Natalie
A Snapshot of Social Media: Camera Phone Practices. Social Media + Society , 1 (1).
HUNTER, Andrea
Monetizing the mommy: mommy blogs and the audience commodity. Information, Communication & Society. 19:9, 1306- 1320.
LEACH, Neil
Walter Benjamin. Mimesis and the Dreamworld of Photography. In. Intersections: Architectural Histories and Critical Theories. Ian Borden and Jane Rendell (eds.) London and New York. Routledge
LINDIG, Sarah
Dolce & Gabbana Continues Its Love Affair with Millennials at the Fall 2017 Men's Show This time, the It crew took over the catwalk. Elle. Accessed online, June, 16 – 2017:
http://www.elle.com/fashion/news/a42120/dolce-gabbana-fall-2017-mens-show-millennials/
MALINOWSKI, Bronislaw
Argonauten des westlichen Pazifik. Ein Bericht über Unternehmungen und Abenteuer der Eingeborenen in den Inselwelten von Melanesisch-Neuguinea. Syndikat, Frankfurt am Main 1979.
MARWICK, Alice E.
Instafame: Luxury selfies in the attention economy. Public Culture, 27, pp. 137-160.
MAUSS, Marcel
[1924] The Gift. trans. Ian Cunnison. London: Cohen & West.
MCQUARRIE, Edward – MILLER, Jessica – PHILIPS, Barbara
The Megaphone Effect: Taste and Audience Fashion Blogging. Journal of Consumer Research. 40 (1): pp. 136-158.
McQUIRE, Scott
Visions of Modernity. Representation, Memory, Time and Space in the Age of the Camera. Sage Publications Ltd.
MOHR, Iris
The impact of social media on the fashion industry. The Journal of Applied Business and Economics vol. 15(2)
NARDI, Bonnie - SCHIANO, Diane – GUMBRECHT, Michelle – SWARTZ, Luke
Why We Blog. Communications of the ACM. 47 (December). Pp. 41–46.
RETTBERG, Jill Walker
Blogging. Cambridge: Polity.
ROCAMORA, Agnès
Personal Fashion Blogs: Screens and Mirrors in Digital Self-portraits. Fashion Theory Journal. Volume 15, Issue 4
ROTH, Henriette
Die Rolle der Smarthphone- Fotografie und Sociale Netzwerke in der Entstehung einer neuen Bildästhetik und neuer Bildtypen. In. Bilder der Gegenwart: Aspekte und Perspektiven des digitalen Wandels. Harald Klinke - Lars Stamm (eds.). Pp 153- 164
SANDYWELL, Barry
Dictionary of Visual Discourse: A dialectical Lexicon of Terms.
SCHOBER, Anna
Blue Jeans: vom Leben in Stoffen und Bildern. Campus- Verlag
SENFT, Theresa M.
Camgirls: Celebrity & community in the age of social networks. New York, NY: Peter Lang.
SENFT, Theresa M. – BAYM. Nancy K.
What does the selfie say? Investigating a global phenomenon. International Journal of Communication, 9, 1588-1606.
SERFATY, Viviane
The Mirror and the Veil: An Overview of American Online Diaries and Blogs. Amsterdam: Amsterdam Monographs in American Studies
SERAFINELLY, Elisa
Digital Life on Instagram: New Social Communication of Photography. Emerald Publishing Limited
SCHWARZ, Ori
On Friendship, Boobs and the Logic of the Catalogue: Online Self-Portraits as a Means for the Exchange of Capital. Convergence, 16 (2), 163–83.
TAN, Jun-E - IBRAHIM, Zawawi
Blogging and Democratization in Malaysia: A New Civil Society in the Making.
TAUSSIG, Michael
Mimesis and Alterity: A Particular History of the Senses. New York: Routledge.
THOMPSON, John B.
The Media and Modernity: A Social Theory of the Media. Stanford, CA: Stanford University Press.
WILSON, Eric
Bloggers Crash Fashion's Front Row. New York times. Accessed online, June, 15 – 2017:
http://www.nytimes.com/2009/12/27/fashion/27BLOGGERS.html?mcubz=0
WEIGEL, Sigrid
Body-and image- space. Re-Reading Walter Benjamin. Routledge.
Refbacks
There are currently no refbacks.
ISSN Print 2499-9288
ISSN Online 2281-1605
Publisher Altrimedia Edizioni
Patronage University of Basilicata, Italy
Web Leonardo Di Benedetto
Periodico registrato presso il Tribunale di Matera, numero di registrazione 2/2014