Open Access

Subscription Access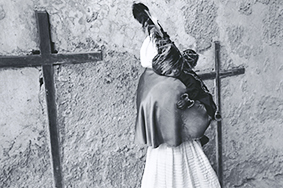 L'etnografia visiva del "Fondo Sabina Cuneo": prime osservazioni
Abstract
The "Sabina Cuneo Collection", recently given to the MuCiv (Museum of the Civilization) in Rome, represents one of the most wide deposits of Italian ethnographic photography, especially dedicated to the ritual and festive
forms in the South Italy. Its scientific reorganization is underway, opened by a small significant exhibition of the photographer's production, and is curated by Anna Rosa Azzarello, with the scientific supervision of Francesco Faeta.
Keywords
Sabina Cuneo; photographer; Ethnography; Ethnograhic Photography; Southern Italy; Museum of Civilization
Full Text:
PDF

Refbacks
There are currently no refbacks.
ISSN Print 2499-9288
ISSN Online 2281-1605
Publisher Altrimedia Edizioni
Patronage University of Basilicata, Italy
Web Leonardo Di Benedetto
Periodico registrato presso il Tribunale di Matera, numero di registrazione 2/2014