Open Access

Subscription Access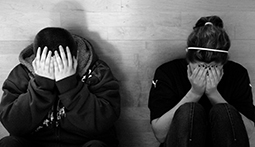 Poetic Visuality. An Essay on the Carceral Experience
Abstract
This photo essay is the result of a research project conducted in collaboration with TIP (Theatre in Prison and Probation) over a period of two months as part of a weekly drama workshop inside HMP Styal - one of fourteen women's prisons in the UK. Based on applied theatre methods and the participatory use of photography, the aim was to create a dialogue with eight women inmates by evoking and exploring the experience of imprisonment. Capacities were limited due to spatial restrictions and prison regulations, but the spoken word fell short to describe the extraordinary experience of ordinary people in prison. With the participants involvement, we arrived at a methodology that at its core considered photography as a form of dialogic engagement. Facilitating the use of a camera and contributing to the creative process of crafting images that elicit a sense of 'imprisonment as experience' inspired us to think about 'poetic visuality' as a form of ethnographic inquiry and expression. Participatory photography, as particular mode of producing knowledge, reveals the relationship between form and meaning, experience and expression, however incomplete these articulations may be. It is precisely this incompleteness that leaves space for author and audience to imagine the carceral experience, not as reproduction, but as authored evocation. By expanding our ethnographic tools beyond the written word, does however not absolve the ethnographer from the ethically and epistemologically problematic legacies of the discipline, nor from the power regimes that underpin such technological practices (Takaragawa et.al. 2019). The potential for rethinking the prison experience lies in recognising and exploring positionalities and relationships between persons as well as their technological appropriations.
Keywords
prison; experience-led ethnography; participatory methods; photography; poetry
Full Text:
PDF

References
ARDENER, Shirley
Women and Space. Ground rules and social maps. Berg: NY
ARFORD, Tammi
Performativity, Parody, and Possibilities: Gender in the Context of Women's Prisons. Paper presented at the American Sociological Association's Annual Meeting. Hilton Atlanta and Atlanta Marriott Marquis: Atlanta.
CORRAL, Carolina
"Being in the wrong place at the wrong time" Ethnographic insights into experiences of incarceration and release from a Mexican prison. PhD Thesis in Social Anthropology. The University of Manchester.
DIETRICH, Martha-Cecilia
Take me to a place outside. A collaborative media project exploring the imaginary worlds of female offenders in a UK prison. Master Thesis in Visual Anthropology. The University of Manchester.
DIIULIO, John J.
Governing Prisons: A Comparative Study of Correctional Management. MacMillan: NY
FELDMAN, Allen
On cultural anesthesia: From Desert Storm to Rodney King. American Ethnologist. Vol. 21, Issue 2: 404–18.
FLEISHER, Mark S.
Warehousing Violence. Sage: Newbury Park, CA
FOUCAULT, Michel
Discipline and Punish: The Birth of the Prison. Vintage: NY
JOHNSON, Robert and Nina CHERNOFF
Opening a Vein: Inmate Poetry and the Prison Experience. The Prison Journal. Vol. 82: 141.
KLEIS, Kathryn
Facilitating Failure: Parole, Reentry, and Obstacles to Success. Dialectical Anthropology. Vol. 34: 525–531.
LEPS, Marie-Christine
Apprehending the Criminal: The Production of Deviance in Nineteenth - Century Discourse. Duke Univ. Press: Durham, NC
LIEBLING, Alison
Prison and their moral performance. A study of values, quality, and prison life. Oxford University Press: Oxford
MARCOUX, Jean Sébastien
The refurbishment of memory. In: Home possessions: material culture behind closed doors by Daniel Miller (ed.). Berg: Oxford.
RHINE, Edward E.
Best Practices: Excellence in Corrections. Lanham, MD: American Correctional Association.
RHODES, Lorna A.
Towards and Anthropology of Prisons. Annual Review of Anthropology. Vol. 30, Issue 1: 65-83.
RHODES, Lorna A.
Ethnography in sites of total confinement. Anthropology News. Vol. 50, Issue 1: 4–5.
TAKARAGAWA, Stephanie, Trudi Lynn SMITH, Kate HENNESSY, Patricia ALVAREZ ASTACIO, Jenny CHIO, Coleman NYE and Shalini SHANKAR
Bad Habitus: Anthropology in the Age of the Multimodal. American Anthropologist. Vol. 121, Issue 2: 517-523.
THOMAS, Jim
Doing Critical Ethnography. Sage: Newbury Park, CA.
TRIMBUR, Lucia
"Me and the Law is Not Friends": How Former Prisoners Make Sense of Re-entry. Qualitative Sociology 32: 259–277.
UGGEN, Christopher, Jeff MANZA and Melissa THOMPSON
Citizenship, Democracy, and the Civic Reintegration of Criminal Offenders. Annals of the American Academy of Political and Social Sciences. Vol. 605, Issue 1: 281-310.
VISHER, Christy and Jeremy TRAVIS
"Transitions from prison to community: Understanding individual pathways". Annual Review of Sociology. Vol. 29: 89-113.
WACQUANT, Loïc
The New `Peculiar Institution': On the Prison as Surrogate Ghetto. Theoretical Criminology. Vol. 4, Issue 3, 2000. Sage: 377–389.
WACQUANT, Loïc
"Prisoner re-entry as myth and ceremony". Dialectical Anthropology. Vol. 34: 605–620.
WALDRAM, James B.
Challenges of Prison Ethnography. Anthropology News. Vol. 50, Issue 1: 4-5
DOI:
http://dx.doi.org/10.12835/ve2018.1-0132
Refbacks
There are currently no refbacks.
ISSN Print 2499-9288
ISSN Online 2281-1605
Publisher Altrimedia Edizioni
Patronage University of Basilicata, Italy
Web Leonardo Di Benedetto
Periodico registrato presso il Tribunale di Matera, numero di registrazione 2/2014