Open Access

Subscription Access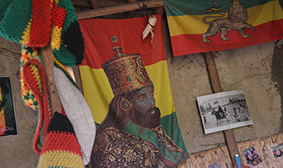 Emperor Haile Selassie I. His Burial and the Rastafarians in Shashamane, Ethiopia
Abstract
The anthropologists Günther Schlee and Georg Haneke attended and filmed the burial of Emperor Haile Selassie I in Addis Ababa, Ethiopia on the 5th of November 2000. The Haile Selassie Film Project enabled the project team to produce a two-part documentary with these historical film material and further recordings.
Keywords
documentary film; Ethiopia; Burial; film; Haile Selassie
Full Text:
PDF

Refbacks
There are currently no refbacks.
ISSN Print 2499-9288
ISSN Online 2281-1605
Publisher Altrimedia Edizioni
Patronage University of Basilicata, Italy
Web Leonardo Di Benedetto
Periodico registrato presso il Tribunale di Matera, numero di registrazione 2/2014