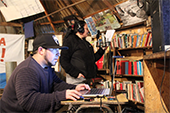 Towards an Anthropology with Flow: Steps To Go Beyond the 'Ontological Turn'
Abstract
The work explores and discusses a key argument of the 'ontological turn' in anthropology: the call to go beyond cultural relativism, 'taking seriously' the ontological assumptions of the collectives under study. While this idea
has been fruitful in problematizing modern dualisms that are one of the foundations of contemporary social theory, it has derived -in many of its developments- into an intellectualism of philosophical imprint and certain
conservatism centered (still) on the written monograph. This inhibits, or at least reduces the radicalization of the apertures proposed by the 'ontological turn'. Through the lessons arising in a research experience with
young rappers in a Mapuche community in the coastal area of Valdivia (Región de los Ríos, Chile) between 2017 and 2019, we see the relevance of literally becoming engaged in the practices of the inhabitants of the
territories where the ethnography takes place. The focus is centered on following the course of actions involved in the construction of a rap video clip dealing with environmental and territorial issues, highlighting the yield
achieved methodologically -and not strictly conceptual- entailed by 'taking seriously' the ontological assumptions of others and the creative manners in which they perform their worlds.
Keywords
Chile; Mapuche; rap music; ontological turn; music video clip
References
ASAD, Talal (ed.)
Anthropology and the Colonial Encounter. London: Ithaca Press.
BESSIRE, Lucas - BOND, David
Ontological anthropology and the deferral of critique. American Ethnologist 41 (3): 440-456.
BLASER, Mario
The Threat of the Yrmo: The political ontology of a sustainable hunting program. American Anthropologist, 111 (1): 10-20.
BOURDIEU, Pierre
Homo Academicus. Stanford: Stanford University Press.
CARMONA, Rosario Antonia (ed.)
Rukas Mapuche en la Ciudad. Cartografía Patrimonial de la Región Metropolitana. Santiago: Consejo Nacional de la Cultura y las Artes.
CLIFFORD, James - GEORGE, Marcus (eds.)
Writing Cultures: The Poetics and Politics of Ethnography. California: University of California Press.
CLIFFORD, James
Predicament of Culture: Twentieth-Century Ethnography, Literature, and Art. London: Harvard University Press.
CORREA, Martín
Las Tierras de Los Michillanca. Accessed on line, March, 20-2020:
https://www.elciudadano.cl/justicia/los-documentos-que-demuestran-usurpacion-de-tierras-a-lafamilia-michillanca-durante-dictadura/03/11/#ixzz5Jn17qTI3
COURSE, Magnus
Becoming Mapuche: Person and Ritual in Indigenous Chile. Illinois: Illinois University Press.
DESCOLA, Phillipe.
La Composition des Mondes. Paris: Flammarion.
DESCOLA, Phillipe
Beyond Nature and Culture. Chicago: University Chicago Press.
DE LA CADENA, Marisol
Earth Beings: Ecologies of Practice Across Andean Worlds. Durham: Duke University Press.
DE LA CADENA, Marisol
Indigenous cosmopolitics in the Andes. Conceptual reflections beyond politics. Cultural Anthropology 25 (2): 334-370.
ESTALELLA, Adolfo -SÁNCHEZ, Tomás (eds.)
Experimental Collaborations. Ethnography Through Fieldwork Devices. New York and Oxford: Berghahn.
FALS BORDA, Orlando
Investigating reality in order to transform it: the Columbian experience. Dialectical Anthropology 4: 33-55.
FREIRE, Paulo
Educação como Prática da Liberdade. Rio de Janeiro: Paz e Terra.
FREIRE, Paulo
The Pedagogy of Opressed. New Yok: Herder and Herder.
HYMES, Dell (ed)
Reiventing Anthropology. New York: vintage Books.
HOLBRAAD, Martin
Tres provocaciones ontológicas. Ankulegi 18: 127-139.
GEERTZ, Clifford
Works and Lives: Anthropologist as Autor. Stanford: Stanford University Press.
GONZÁLEZ, Marcelo
The truth of experience and its communication: Reflections on Mapuche epistemology. Anthropological Theory, 15 (2): 141-157.
HOLMES, Douglas -MARCUS, George
Collaboration Today and the re-imagination of the classic scene of fieldwork encounter. Collaborative Anthropologies 1: 81–101.
KIÑE RAKIZUAM and LOF MICHILLANKA
Declaración Encuentro por la Defensa del Laken Mapu. Accessed on line, March, 19-2020:
https://www.mapuexpress.org/2017/07/25/declaracion-encuentro-wadalafken-organizaciones-y-comunidadesalertan-por-proyectos-mineros-en-la-costa-valdiviana/
KOPENAWA, Davi - ALBERT, Bruce
The Falling Sky. Word of a Shanomami Shaman. London: Harvard University Press.
LAMAS, Marta
¿Activismo académico? El caso de algunas etnógrafas feministas. Cuicuilco 72: 9-30.
LASSITER, Luke.
The Chicago Guide to Collaborative Ethnography. Chicago/London: Chicago University Press.
LAWLESS, Eliane
Reciprocal' Ethnography: No One Said It Was Easy. Journal of Folklore Research 37: 197–205.
LOW, Setha-MERRY, Sally
Engaged anthropology: diversity and dilemmas. Current Anthropology 51: 203-226.
MARIMÁN, Pablo-CANIUQUEO, Sergio- MILLALÉN, José- LEVIL, Rodrigo
¡…Escucha Winka…! Cuatro Ensayos de Historia Nacional Mapuche y un Epílogo Sobre el Futuro. Santiago: LOM.
MERTON, Robert
Social Theory and Social Structure. New York: Simon Schuste, The FreePress.
MOL, Annemarie
Ontological politics. A word and some questions. In Actor Network Theory and After. John Law and John Hassard (eds.). Boston: Blackwell Publishers. Pp. 74-89.
MOULIAN, Rodrigo
Metamorfosis Ritual: Desde el Nguillatun al Culto Pentecostal. Valdivia: Ediciones Kultrún.
ORTNER, Sherry
Anthropology and Social Theory: Culture, Power, and the Acting Subject. Durham: Duke University Press.
PINK, Sarah- ARDÈVOL, Elisenda-LANZENI, Dèbora (eds.)
Digital Materialities: Design and Anthropology. London: Bloomsbury.
RAMÍREZ, Silvia
La Oralidad como Recurso de Persistencia: El Caso de las Historias de las Mujeres Mapuches-Huilliches de Maihue, X Región de Los Lagos. Undergraduate thesis. Faculty of Philosophy and Humanities. Valdivia: Universidad Austral de Chile.
REYNOSO, Carlos
Crítica de la Antropología Perspectivista. Viveiros de Castro, Philippe Descola, Bruno Latour. Buenos Aires: Ediciones SB.
ROJAS-BAHAMONDE, Pablo
El rito fúnebre mapuche del descanso: de la muda ontológica al árbol de los ancestros. Chungará 48 (4): 657-678.
ROJAS-BAHAMONDE, Pablo - MELLADO, María - GARCÍA, Camila
La cámara en el trabajo de campo: usos metodológicos y éticos del registro audiovisual en el mundo mapuche cordillerano. Revista Chilena de Antropología Visual 26: 138-156.
ROOKE, Allison
Queer in the Field: On the messy matters of ethnographic research. Journal of Lesbian Studies 13: 149-160.
SALAZAR, Juan-PINK, Sarah- IRVING, Andrew- SJÖBERG, Johannes (eds.)
Anthropologies and Futures: Researching Emerging and Uncertain Worlds. New York and London: Bloomsbury.
SCHEPER-HUGHES, Nancy
The primacy of the ethical: propositions for a militant anthropology. Current Anthropology 36: 409- 440.
SCHROCK, Michelle
The Methodological Imperatives of Feminist Ethnography. Journal of Feminist Scholarship 5: 54-60
STOCKING, George
Franz Boas and the culture concept in historical perspective. American Anthropologist 68 (4): 867-882.
VANNINI, Phillip
Non-representational research methodologies: An introduction. In Non-Representational Methodologies. Re-Envisioning Research. Phillip Vannini (ed.). New York and London: Routledge. Pp. 1-18.
VERGARA, Jorge-FOESTER, Rolf-GUNDERMAN, Hans
Más acá de la legalidad. La CONADI, la ley indígena y el pueblo mapuche (1989-2004). POLIS 8: 1-19.
VIVEIROS DE CASTRO, Eduardo
O recado da mata. In A Queda Do Céu. Palavras de um Xama Yanomami. Davi Kopenawa & Bruce Albert. Sao Paulo: Companhia Das Letras. Pp. 11-41.
VIVEIROS DE CASTRO, Eduardo
The Inconstancy of the Indian Soul. The Encounter of Catholics and Cannibals in 16- Century Brazil. Chicago: Prickly Paradigm Press.
VIVEIROS DE CASTRO, Eduardo
a Zeno and the art of anthropology. Of Lies, Beliefs, Paradoxes, and Other Truths. Common Knowledge 17: 128-145.
WILLERSLEV, Rane.
Taking Animism Seriously, but Perhaps Not Too Seriously? Religion and Society 4: 41–57
DOI:
http://dx.doi.org/10.12835/ve2019.1-0139
Refbacks
There are currently no refbacks.
ISSN Print 2499-9288
ISSN Online 2281-1605
Publisher Edizioni Museo Pasqualino
Patronage University of Basilicata, Italy
Web Salvo Leo
Periodico registrato presso il Tribunale di Palermo con numero di registrazione 1/2023