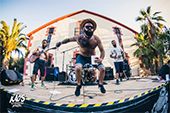 Music Videos as a Mode of Resistance in Almería's Industrial Agriculture
Abstract
Music and agricultural work have a long and varied relationship across cultures and throughout history. Activities such as planting, hoeing, herding and harvesting are frequently accompanied by song, while life in
the fields has been documented, shared and passed on through varied musical forms. Agricultural songs range from joyous celebrations, odes to nature and the marking of seasons to those that offer biting social
commentary, political critique and calls for resistance and revolution. This article explores the complex relationship between musicians and music production in industrial agricultural settings. It examines how the
musical rhythms developed by Almería's agricultural industry's workers have evolved as the industry's modes of production have intensified and mechanised, and how music serves as a means to communicate and share
worker's feelings and experiences, often leading to forms of connection, rebellion or resistance across time. By exploring how social and political context have been reflected through musical production, performance and
the affective relations built around 'sonic images', namely "the set of postures, body movements, expressions, gestures inherent in musical creation" (D'Amico, 2015:2), it analyses the process of co-creating music videos with a local agricultural worker rock band, and how this uses new media to build on long standing popular forms of musical expression in the regional traditional agriculture. The article suggests localized musical
production among workers serves to disrupt "comfortable [visual] boundaries and encouraging transgression of rules" (Mitchell 1992:223), but most importantly, to create empathy in shared feelings of social immobility and entrapment, creating affective bonds between the musicians and their audiences while recognising the role of the musicians as writers of intersubjective histories of the industrial reality.
Keywords
music video clip; intensive agriculture; industry; DIY musicians; Southern Spain
References
BAUWENS, Michael
Co-creation and the new industrial paradigm of peer production. Fibreculture Journal, 14.
BELL, David - KENNEDY, Barbara
The Cybercultures Reader. London: Routledge, 2nd edition.
BONILLA MARTINEZ, Juan José
Huellas Alpujarreñas. Colección Almerienses de Palabra, Diputación de Almería.
CALVO BUENZAS, Tomás
El conflicto estructural de El Ejido: a la caza del moro. Sociedad y Utopía, Revista de Ciencias Sociales. 16, pp.
-55.
CAMPO TEJEDOR, Alberto del
Degradación y elogio del ojo del culo. Motivos folclóricos del cancionero obsceno-escatológico popular."
Bulletin hispanique. Université Michel de Montaigne Bordeaux 118-2: 693-728.
CASEY, Edward S.
Getting back into place: Toward a renewed understanding of the place-world. Indiana University Press, 1993.
CASTAÑO MADROÑAL, Ángeles
Una sociedad ahogada en un 'mar de plásticos': factores precipitantes de una persecución étnica. Actas
del II congreso inmigración en España.
CHECA, Francisco
¿Qué ha pasado en El Ejido?. In Checa, F. (Eds.), El Ejido: la ciudad-cortijo, Barcelona: Icaria, pp.11-29.
COESSENS, Kathleen – ÖSTERSJÖ, Stefan
Habitus and the Resistance of Culture. In Artistic Experimentation in Music: An Anthology. Crispin, D., &
Gilmore, B. (éds.). Leuven University Press.
CRIADO, José - RAMOS, Francisco.
El trovo en el Festival de Música Tradicional de la Alpujarra (1982-1991). Centro de Documentación Musical
de Andalucía.
CRUCES, Francisco
"Jóvenes y corrientes culturales emergentes". In Cruces, F. y García Canclini, N. Eds.: Jóvenes, culturas
urbanas y redes digitales. Madrid: Ariel-Fundación Telefónica.
CRUCES ROLDÁN, Cristina
Clamaba un minero así: identidades sociales y trabajo en los cantes mineros. Vol. 4. EDITUM
D'AMICO, Leonardo
La dimensión visual de la práctica instrumental: perspectivas teóricas, metodológicas y experiencias
"fílmicas" de investigación. TRANS-Revista Transcultural de Música/Transcultural Music Review 19
DAYAN, Daniel
Conquering Visibility, Conferring Visibility: Visibility Seekers and Media Performance. International
Journal of Communication 7,17
DECETY, Jean – JACKSON, Philip L
A social-neuroscience perspective on empathy." Current directions in psychological science 15, no. 2: 54-
ELDER, Sarah
Collaborative filmmaking: an open space for making meaning, a moral ground for ethnographic film.
Visual Anthropology Review 11, no. 2: 94-101.
ENGELS, Friedrich – MARX, Karl
The Marx and Engels Reader, 2nd edn., Ed. Robert C. Tucker. New York: Norton.
GARCÍA CASTAÑO, Francisco Javier – GRANADOS MARTÍNEZ, Antolín
Diversidad cultural, exclusión social e interculturalidad. Granada: Laboratorio de Estudios Interculturales.
GARCÍA LÓPEZ, Noel
"Alarmas y sirenas: sonotopías de la conmoción cotidiana". In Antenbi, A. and González, P Eds.
Espacios sonoros, tecnopolítica y vida cotidiana. Aproximaciones a una antropología sonora. Orquestra del caos,
Barcelona
GARCÍA-PEINAZO, Diego
Negotiating Andalusian Identity in Rock Andaluz Harmony: Musical Modes," expressive Isomorphism"
and Meaning in Post-Franco Spain. Universitätsbibliothek.
¿Es nuestra música? Rock con raíces e identidades nacionales en España. ANDULI, Revista Andaluza de
Ciencias Sociales 18: 73-92.
GARCÍA SALUEÑA, Eduardo
Música para la libertad. Nuevas tecnologías, experimentación y procesos de fusión en el rock progresivo de la España de la
Transición: el eje noroeste. Norte Sur Discos.
GARÍ, Clara.
Introducción. In Antenbi, A. and González, P Eds. Espacios sonoros, tecnopolítica y vida cotidiana. Orquestra
del caos, Barcelona
GONZÁLEZ FLORES, Laura
La Imagen del Otro "Otro": La Produccion Fotografica de grupos sociales minoritarios. In G. Curiel
(Ed.), Orientes-Occidentes: El Arte y La Mirada del Otro (pp. 437-452). Mexico DF: Universidad Nacional
Autonoma de Mexica; Ins
GRUBER, Martin
Participatory Ethnographic Filmmaking: Transcultural collaboration in Research and Filmmaking.
Visual Ethnography 5, no. 1: 15-44.
HEINICH, Nathalie
De la visibilité: Excellence et singularité en régime médiatique. Paris: Editions Gallimard.
HOOD, Mantle
The Ethnomusicologist. New York: McGraw-Hill.
IRVING, Andrew
Ethnography, Art, and Death. Journal of the Royal Anthropological Institute 13 (1): 185 -208.
KUSEK, David
The plunge of the major music labels: is the end of music 1.0 near? In Leonhard, G. Music 2.0.
Finlandia: David Battino.
LIPPS, Theodor
Einfühlung, innere Nachahmung, und Organempfindungen. Archiv für die gesammte Psychologie, 1, 185–
NAVARRO GARCÍA, José Luis – IINO, Akio
Cantes de las Minas. Ed. Posada. Córdoba.
MARTINEZ-ALIER, Joan
Labourers and Landowners in Southern Spain. London: Allen & Unwin.
MARTÍNEZ VEIGA, Ubaldo
a Alojamiento y segregación: el caso de Almería. Demófilo. 29 pp.131-152.
MARTÍNEZ VEIGA, Ubaldo
b Pobreza, exclusión social y segregación espacial. Areas. Revista Internacional de Ciencias Sociales, (19), 35-50.
MARTÍNEZ VEIGA, Ubaldo
Ejido: discriminación, exclusión social y racismo (Vol. 122). Barcelona: Los libros de la Catarata.
MCWILLIAM, Kelly.
Digital storytelling as a 'discursively ordered domain'. In K. Lundby (Ed.), Digital Storytelling, Mediatized
Stories: Self representations in New Media (pp. 147-160). New York: Peter Lang.
MITCHELL, William. J.
The Reconfigured Eye: Visual Truth in the Post-Photographic Era. Cambridge, MA: MIT Press.
MOTA, David
Los 40 radikales. La música contestataria vasca y otras escenas musicales: origen, estabilización y dificultades (1980-
. Bilbao: Beta III Milenio.
MYERS, Fred R.
Painting culture: the making of an aboriginal high art. Duke University Press.
OCHOA GAUTIER, Ana María
Músicas locales en tiempos de globalización. Buenos Aires: Norma.
ONG, Aihwa
Spirits of resistance and Capitalist Discipline, SUNY Press.
PACHECO, Pablo Clu.
"Manolo (Almería)", Fondo de Música Tradicional IMF-CSIC, ed. E. Ros-Fábregas (access date: 08 Oct
, https://musicatradicional.eu/informant/35173
PARVIAINEN, Jaana
Kinaesthetic empathy. Dialogue and Universalism XIII(11/12): 154–165.
PINK, Sarah
Mobilising Visual Ethnography: Making Routes, Making Place and Making Images. Forum: Qualitative
Social Research 9(3): 1-17.
PODOLINSKY, Sergei
Menschliche arbeit und einheit der kraft. Die Neue Zeit, 1(9), 413-424.
POLLAN, Michael
The omnivore's dilemma: A natural history of four meals. Penguin.
REGEV, Motti
Pop-rock music: Aesthetic cosmopolitanism in late modernity. John Wiley & Sons.
RIO RUÍZ, Manuel Ángel
El disturbio de El Ejido y de la segragación de los inmigrantes. Revista Andaluza de Ciencias Sociales. 1, pp.
-107
ROCCA, Luis
La otra historia: memoria colectiva y canto del pueblo de Zaña, Lima: Instituto de apoyo agrario.
RODMAN, Margaret
Empowering place: Multivocality and Multilocality. In The Anthropology of Space and Place: Locating Culture.
Setha Low and Denise Lawrence-Zuniga (eds). Oxford: Blackwell. Pp. 204-223.
RODRÍGUEZ GARCÍA, María Margarita
El Ejido y su proceso de identificación local. In Castaño, F. J. G., & López, C. M. (Eds). La inmigración en
España: contextos y alternativas. Granada: Laboratorio de Estudios Interculturales. pp. 393-400.
ROQUE DE PINHO, Joana
Portraits of change by farmers in Southern Guinea-Bissau. Visual Ethnography 5, no. 1: 161-185.
SANZ, Jesus - MATEOS, Óscar
15–M. Apuntes para el análisis de un movimiento en construcción. Revista de Fomento Social, 66(263).
SCOTT, James. C.
Weapons of the Weak: everyday forms of peasant resistance. New Haven CT: Yale University Press.
SCHILLER, Herbert I.
Culture, Inc: The corporate takeover of public expression. Oxford University Press on Demand
SOS RACISMO
El Ejido. Racismo y explotación laboral. Barcelona: Icaria.
STEIN, Edith
Zum problem der Einfühlung. Munchen: Verlagsgesellschaft Gerhard Kaffke, 1980.
SZWED, John
So what: the life of Miles Davis. New York: Simon and Schuster.
TORREC CORTÉS, Norberto
El folclore musical y el flamenco de Almería: una primera aproximación. In Los Cantes y el flamenco de
Almería: I Congreso Provincial: Baños de Sierra Alhamilla 5, 6 y 7 de Agosto de 1994, Pechina (Almería), pp.
-99. Instituto de Estudios Almerienses.
VAL RIPOLLÉS, Fernán
Rockeros insurgentes, modernos complacientes: Juventud, rock y política en
España (1975-1985). Doctoral Dissertation, Universidad Complutense de Madrid, Madrid.
De la apatía a la indignación. Narrativas del rock independiente español en época de crisis. Methaodos.
Revista de ciencias sociales 4(1): 58–72
'Sing as you talk': Politics, popular music and rock criticism in Spain (1975–1986). Journalism. 1: 1-20.
VARELA, Francisco J. – THOMPSON, Evan – ROSCH, Eleanor
Der mittlere Weg der Erkenntnis–Der Brückenschlag zwischen wissenschaftlicher Theorie und menschlicher Erfahrung
(engl. The Embodied Mind). München: Goldmann.
WALTON, Shireen.
Digital and Visual Methods in Anthropology: Continuity, Collaboration and Creativity. In Costa,
Costa, C. and Condie, J. (Eds.) Doing research in and on the Digital: Research Methods Across Fields of
Inquiry', Routledge.
YÚDICE, George
Nuevas tecnologías, música y experiencia. Barcelona: Gedisa.
DOI:
http://dx.doi.org/10.12835/ve2019.1-0140
Refbacks
There are currently no refbacks.
ISSN Print 2499-9288
ISSN Online 2281-1605
Publisher Altrimedia Edizioni
Patronage University of Basilicata, Italy
Web Leonardo Di Benedetto
Periodico registrato presso il Tribunale di Matera, numero di registrazione 2/2014