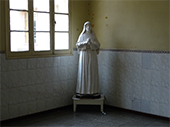 Altars, Statues, Murals: 'Religious' Visualities of Primary Schools in Santiago de Chile
Abstract
This photo-essay is the result of a three-year research project aimed at exploring the visual culture of eight, State funded, primary schools in Santiago de Chile. It presents classroom altars, statues and murals
as recurrent visual events within school life, that seem to challenge both traditional pedagogical practices and youth's connections with modern visualities. Thus, questions regarding the relationship between religious visual symbols and education are problematized.
Keywords
Visual culture of schools; religious visualities in schools; elementary schools; everyday aesthetics; Chile
References
ERRÁZURIZ, Luis Hernán - MARINI, Guillermo
Chilean School Façades: Educational approaches and social realities. Visual Communication, 15 (4): 429-438
ERRÁZURIZ, Luis Hernán (éd)
El (f)actor invisible: estética cotidiana y cultura visual en espacios escolares. Accessed online, April 1, 2020: https://www.cultura.gob.cl/wp-content/uploads/2015/11/factor_invisible_digital.pdf
INJUV (National Institute for the Youth)
National Youth Survey. Accessed online, April 1 - 2020:
http://www.injuv.gob.cl/storage/docs/9%C2%B0_Encuesta_Nacional_de_Juventud_2018.pdf
MONTENEGRO, Catalina
Propuesta de didáctica feminista para la enseñanza escolar de las artes visuales: pensar el espacio escolar de otra manera. Revista Estudios Pedagógicos, 44 (3): 289-302
PORTERFIELD, Laura Krystal
(Re)Seeing Black girls: intersections of liberalism, difference, and the hidden curriculum, Visual Studies, 32 (4): 301-312
PROSSER, Jon
Visual methods and the visual culture of schools, Visual Studies, 22 (1): 13-30
SCHWEMBER, Francisco
Lecciones de clase: investigación basada en artes en contextos educacionales vulnerables. Santiago de Chile: Ediciones UC
DOI:
http://dx.doi.org/10.12835/ve2019.1-0142
Refbacks
There are currently no refbacks.
ISSN Print 2499-9288
ISSN Online 2281-1605
Publisher Edizioni Museo Pasqualino
Patronage University of Basilicata, Italy
Web Salvo Leo
Periodico registrato presso il Tribunale di Palermo con numero di registrazione 1/2023