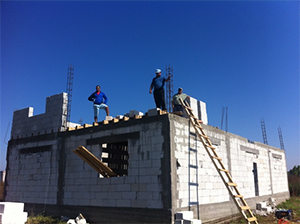 Acasă, în România. Ongoing housing improvement in homeland
Abstract
The text explores the interaction between home making – the social construction process of the domestic sphere – and house building – the actual building of a house, which is full of significance – based on a dense
ethnographic experience with the families and their living places, in Romania and Italy. Moving from Appadurai's perspective of the local dimension as the repertoire of the conditions of possibility, it has been possible to show that home making and house building practices reveal the conditions of 'possibility' experienced by those people and represent at the same time an action aiming for the fulfilment of 'imaginable' and 'desirable' futures.
Keywords
Rudari; Romania; migration; home-making; house-building; local dimension; Appadurai
References
ANTOLINI, Paola
Los agotes. Historia de una exclusión. Madrid: Istmo.
APPADURAI, Arjun
The Future as Cultural Fact. Essays on the Global Condition. London: Verso.
BENARROSH-ORSONI, Norah
La maison double. Lieux, routes et objets d'une migration rom. Nanterre: Société d'ethnologie.
BENGELSTORF, Jens
Die "anderen Zigeuner". Zur Ethnizität des Rudari und Bajeschi in Südosteuropa. Leipzig: Eudora-Verlag.
BLOCK, Martin
[1923] Die materielle Kultur der rumänischen Zigeuner. Frankfurt am Main: Peter Lang.
Moeurs et coutumes des tziganes. Paris: Payot.
BOCCAGNI, Paolo
Migration and the Search for Home. Mapping Domestic Space in Migrants' Everyday Lives. London: Palgrave
Macmillan.
BOURAS, Alain
La civilisation des clairières. Enquête sur la civilisation de l'arbre en Roumanie. Ethnoécologie, technique et symbolique dans
les forêts des Carpates, avant-propos de P.-H. Stahl. Besançon: Presses universitaires de Franche-Comté.
CALOTA, Ion
Graiul rudarilor din Oltenia. Rezumatul tezei de doctorat. Craiova: Sectorul de reprografie al Centrului de ştiințe
sociale.
Rudarii din Oltenia. Studiu din dialectologie şi de geografie lingvistica româneasca. Craiova: Sibila.
Elemente sud-dunărene în graiul rudarilor din Oltenia. Dacoromania serie nouă II: 47-51.
CHELCEA, Ion
Les Rudari de Muscel: contribution à l'étude des Tziganes. Archives pour la science et la réforme sociales XVI
(1-4): 81-130.
a Ţiganii din România: monografie etnografică Bucureşti: Institutul Central de Statistică.
b Rudari. Contribuţie la o 'enigmă' etnografică. Bucureşti: Casa Şcoalelor.
Rudarii de pe Valea Dunării (între cursul inferior al Oltului şi Mostiştei). Comunicări. Seria Etnografică III:
-37.
CHERATA, Lucian
[2008] Cine sunt rudari. Arhivă Linguistică 4.
https://limbaromana.org/revista/cine-sunt-rudarii/#
CONSTANTIN, Marin
Arta cioplirii lemnului la rudarii din Băbeni (judeţul Vâlcea). În Antropologie şi spiritualitate. Andrei Kozma,
Cristiana Glavce – Costantin Bălăceanu-Stolnici (eds). Bucureşti: Editura Academiei Române. Pp: 186-
DORONDEL, Şerban
Ethnicity, state and access to natural resources in the southeastern Europe. The Rudari case. In Transborder
identities. The Romanian-speaking population in Bulgaria. Stelu Şerban (ed). Bucureşti: Paideia. Pp. 215-239.
FAVELL, Adrian
Immigration, Integration and Mobility: New Agendas in Migration Studies. Essays 1998 – 2014. Colchester: ECPR
Press.
FOTINO, Dionisiu
Istoria generala a Daciei. Bucureşti: Imprimeria naţională a lui Iosef Romanov et Companie.
GRILLO, Ralph D.
Riflessioni sull'approccio transnazionale alle migrazioni. In Migrazioni transnazionali dall'Africa. Etnografie a
confronto. Bruno Riccio (ed). Torino: UTET.
GUȚĂ, Armand (ed)
Rudari – o enigmă balcanică. Bucureşti: Vestala.
MARCETTI, Corrado – PABA Giancarlo – PECORIELLO, Anna Lisa – TOSI CAMBINI, Sabrina
L'ex-sanatorio Luzzi nel comune di Sesto Fiorentino: racconto di un'esperienza, tra emergenza abitativa,
progettualità sociale e impotenza delle politiche istituzionali. In Housing Frontline. Inclusione sociale e processi
di autocostruzione e autorecupero. Corrado Marcetti – Giancarlo Paba – Anna Lisa Pecoriello – Nicola
Solimano (eds). Firenze: Firenze University Press. Pp. 169-209.
MARCETTI, Corrado – TOSI CAMBINI, Sabrina
Urban places and public space: the Luzzi case study. In Living Landscapes (landscapes for living) Policies,
Practices. Camilla Perrone (ed). Planum. The Journal of Urbanism 27 (2).
MARUSCHIAKOVA, Elena – POPOV, Vesselin
'Gypsy' groups in Eastern Europe: Ethnonyms vs. professionyms. Romani Studies 23 (1): 61-82.
NICOLĂESCU-PLOPŞOR, Constantin S.
Gurbanele. Arhivele Olteniei I/1: 35-40.
NI SHUINÉAR, Sinéad
Viaggatori irlandesi: una cultura anti-gerarchia. In La dipendenza. Antropologia delle relazioni di dominio. Pier
Giorgio Solinas (ed). Lecce: Argo. Pp: 335-343.
PETROVICI, Emil
'Românii' din Serbia Occidentală. Dacoromania IX: 224-236.
PIASERE, Leonardo
Comunità girovaghe, comunità zingare. Napoli: Liguori.
POLI, Roberto
Anticipation: A New Thread for the Human and Social Sciences? CADMUS 2(3), part 1: 23-36.
RAȚ, Cristina
Social Citizenship at the Margins. In Racialized Labour in Romania: Spaces of Marginality at the Periphery of Global
Capitalism. Enikő Vincze – Norbert Petrovici – Cristina Raț – Giovanni Picker (eds). Cham: Palgrave
Macmillan. Pp. 97-121.
RICCIO, Bruno (ed)
Mobilità. Incursioni etnografiche. Milano: Mondadori.
ŞERBAN, Stelu
Politics against ethnicity. The case of Rudari from Varna district. In Transborder identities. The Romanianspeaking
population in Bulgaria. Stelu Şerban (ed.). Bucureşti: Paideia. Pp. 241-276.
SHELLER, Mimi – URRY, John
The new mobilities paradigm. Environment and Planning A 38: 207-226.
SLAVKOVA, Magdalena
Social Ties of Bulgarians and Rudari in the Mediterranean Countries. Sator 18: Balkan and Balticum. Current
studies in the Postsocialist Space: 42-69.
SORESCU-MARINKOVIĆ, Annemarie
Rudarii și patrimoniul cultural imaterial. In Patrimoniu și patrimonializare. Elena Rodica Colta (ed).
Bucureşti: Editura Etnologică. Pp. 174-194.
STAHL, Paul-Henri
L'Habitation enterrée dans la région orientale du Danube (XIXe et XXe siècles). L'Homme 12 (4): 37-61.
Tre insediamenti di Rudari in Romania. La ricerca folklorica 22: 55-66.
TEODORESCU, Dominic
Homeownership, mobility, and home: a relational housing study of Argentine Ludar and Romanian
Rudari. Geoforum 116: 98-109.
TESĂR, Cătălina
Houses under Construction: Conspicous Consumption and the Values of the Youth among Romanian
Cortorari Gypsies. In Gypsy Economy. Romani Livelihoods and Notions of Worth in the 21st Century. Micol
Brazzabeni – Manuela Ivone Cunha – Martin Fotta (eds), New York and Oxford: Berghahn. Pp. 181-
TOMA Stefánia – TESĂr, Cătălina – LÁSZLÓ Fosztó
Romanian Roma at Home: Mobility Patterns, Migration Experiences, Networks, and Remittances. In
Open Borders, Unlocked Cultures: Romanian Roma Migrants in Western Europe. Yaron Matras – Daniele Viktor
Leggio (eds). London: Routledge. Pp. 57-82.
Refbacks
There are currently no refbacks.
ISSN Print 2499-9288
ISSN Online 2281-1605
Publisher Edizioni Museo Pasqualino
Patronage University of Basilicata, Italy
Web Salvo Leo
Periodico registrato presso il Tribunale di Palermo con numero di registrazione 1/2023