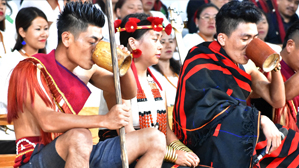 Animistic Motifs and the Cross: A Visual Narrative on Indigenizing Christianity
Abstract
An array of images has been used in this photographic essay to argue how the Sumi Naga (erstwhile Sema Naga) of India has indigenised Christianity as a strategy to retain their cultural identity while holding on to the new faith. The conversion to Christianity resulted in a change in social structure and culture. The converted
Sumi Naga took water baptism to indicate that their old life is gone, behold the new has come. While renouncing their old self, they also disengaged every belief and practice. By the late twentieth century, the realisation dawned, that they can be Christians at the same time remain a Naga. Erection of centenary gate in the middle of the town decorated with animistic motifs and celebrating Tuluni, an agricultural festival in the church are some examples of indigenising Christianity.
Keywords
Indigenising Christianity; Naga tribes; Tuluni; Headhunters
Refbacks
There are currently no refbacks.
ISSN Print 2499-9288
ISSN Online 2281-1605
Publisher Edizioni Museo Pasqualino
Patronage University of Basilicata, Italy
Web Salvo Leo
Periodico registrato presso il Tribunale di Palermo con numero di registrazione 1/2023