Open Access

Subscription Access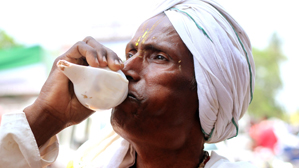 Yatras in the Medieval Indian Temples: A Visual Story of Rukunayatra in Odisha
Abstract
Yatras are ritualistic processions of Gods and Goddesses and are connected with their movement outward from the inner sanctum of their respective temples. In this scenario, the deity becomes accessible to nearby awaiting residents and pilgrims to have the privilege of the "sight" (darshan) of their God and Goddesses. These ceremonial processions were embedded in the local peoples' social norms and values and have survived through time. This essay documents the traditional Rukunayatra of God Shiva, known by the name Lingaraja, the presiding deity of the Lingaraja temple in Odisha, India, through still photographs. God Lingaraja is also known as Tribhuvaneshwara, meaning 'the lord of the three worlds' as Hinduism believes. Bhubaneswar, the capital city of Odisha, derives its name as a mark of respect to this deity.
Keywords
Eastern India; Hinduism; Rituals; Lingaraja temple; God Shiva; Rukunayatra; Journey festival
Full Text:
PDF

Refbacks
There are currently no refbacks.
ISSN Print 2499-9288
ISSN Online 2281-1605
Publisher Altrimedia Edizioni
Patronage University of Basilicata, Italy
Web Leonardo Di Benedetto
Periodico registrato presso il Tribunale di Matera, numero di registrazione 2/2014