Open Access

Subscription Access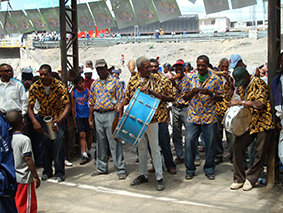 Más allá del fútbol: Validating Afro-Latino Culture and Decolonizing the Curriculum through Film and Filmmaking
Abstract
Though recent scholarship illuminates the significance of film in increasing visibility of Afro-Latinos and expanding the Spanish language curriculum, it fails to consider how film validates oral traditions in the African Diaspora as well as challenge the curricular assumptions that marginalize orality. I therefore consider the counterhegemonic potential of film through a discussion of my 2008 Fulbright funded documentary film on the Afro-Ecuadorian communities of the Chota-Mira valley. A decolonizing process and project, Más allá del fútbol documents the oral tradition of bomba as a means of celebrating afrochoteño culture and raising awareness of their subalternity. Interdisciplinary, it presents bomba and afrochoteño culture as represented by afrochoteños themselves. This article reveals the necessity of critically engaging film and filmmaking as decolonial tools that validate afrodescendant oral traditions and counter the epistemological violence of colonialism and colonial slavery.
Keywords
Afro-Latinos; Afro-Ecuadorians; Film and filmmaking; Subalternity; Decoloniality
Full Text:
PDF

DOI:
http://dx.doi.org/10.12835/ve2015.1-0043
Refbacks
There are currently no refbacks.
ISSN Print 2499-9288
ISSN Online 2281-1605
Publisher Edizioni Museo Pasqualino
Patronage University of Basilicata, Italy
Web Salvo Leo
Periodico registrato presso il Tribunale di Palermo con numero di registrazione 1/2023