Open Access

Subscription Access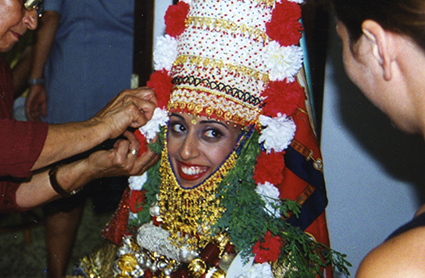 What becomes a bride the most: the Yemenite Jewish henna
Abstract
The Yemenite Jewish henna bride is widely admired and envied in Israel. Her iconic image is reified and exhibited in shops, on billboards, and in museums for political and economic purposes. Simultaneously, the local folk culture reveres the Yemenite henna dressing as a living custom reminiscent of their life in Yemen. A pictorial narrative tracing the fate of the henna ceremony in Israel depicts the efforts of one local dresser to construct a sublime bride, thus placing her beyond interpretation and exploitation. Her success is realized in a shocking, surrealistic vision of the Marvelous. This experiment in ethnographic form and content borrows heavily from the languages of surrealism and psychoanalysis as the author, following the dresser, attempts to construct a textual artifact that is representative of her work.
Keywords
Israel; henna ceremony; ethnography; museum; Yemenite Jews; surrealism; psychoanalysis
Full Text:
PDF

DOI:
http://dx.doi.org/10.12835/ve2015.2-0049
Refbacks
There are currently no refbacks.
ISSN Print 2499-9288
ISSN Online 2281-1605
Publisher Altrimedia Edizioni
Patronage University of Basilicata, Italy
Web Leonardo Di Benedetto
Periodico registrato presso il Tribunale di Matera, numero di registrazione 2/2014