Open Access

Subscription Access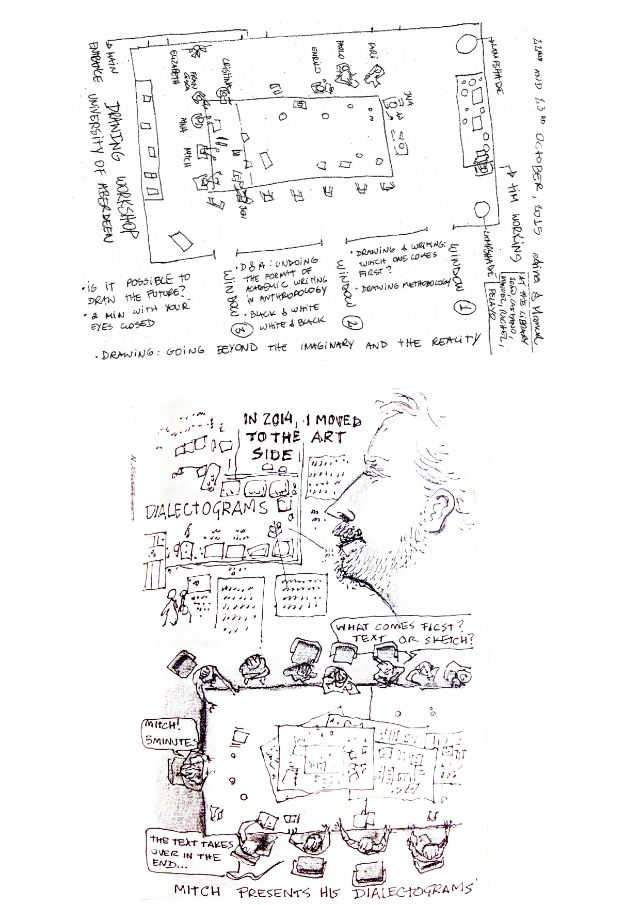 Drawing Close – On Visual Engagements in Fieldwork, Drawing Workshops and the Anthropological Imagination
Abstract
Participatory visual methods are becoming the new hype in anthropology. Researchers tend to present participatory visual methods as attractive approaches to not only promote innovative research that engages informants in original and collaborative ways but to engage students eager to find bridges between the academic world and a world progressively addicted to visual consumerism. Unlike photographing and filming, doodling-sketching-drawing – participatory or not – is more about linear image mental processing and communicating (and thus somewhat akin to handwriting, lack of linguistic encoding and propositionality notwithstanding) than an "objective" visual method. Based on discussions from a workshop dedicated to "ethnographic drawing" in the University of Aberdeen, we propose to tackle some of the features of the drawing practice, hoping that its much-misunderstood potential as a knowledge tool helps us reconsider what anthropological understanding is.
Keywords
Drawing; graphic anthropology; fieldwork methods; representation vs imagination
Full Text:
PDF

DOI:
http://dx.doi.org/10.12835/ve2016.1-0061
Refbacks
There are currently no refbacks.
ISSN Print 2499-9288
ISSN Online 2281-1605
Publisher Altrimedia Edizioni
Patronage University of Basilicata, Italy
Web Leonardo Di Benedetto
Periodico registrato presso il Tribunale di Matera, numero di registrazione 2/2014